This is an archived article and the information in the article may be outdated. Please look at the time stamp on the story to see when it was last updated.
BOONE, Iowa — A hearing is being held Tuesday in a Boone County first degree murder case.
The defense is asking the judge to dismiss the criminal charges against Alex Fazzino. He is charged with first degree murder in the death of his wife, Emily.
Her body was found in the tub of her bathroom on January 29, 2012 after her husband called 911 to say someone was trying to drown themselves. When emergency crews arrived they were unable to revive Emily Fazzino.
Alex Fazzino wasn't arrested in the death until April of 2013. During the investigation he claimed Emily was abusing prescription medication and he admitted she had filed for divorce about a week before her death.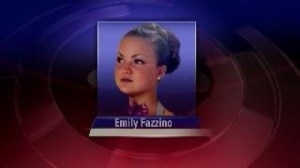 Emily Fazzino's family says the autopsy done by the State Medical Examiner said Emily died from undetermined causes, but did note several areas of trauma on her neck, throat, and the sides and front of her head. No drugs were found in her system at the time of her death.
A forensic pathology expert hired by Emily's family reviewed the autopsy findings and concluded Emily's death was a homicide because she died of asphyxia due to neck compressions and/or drowning.
Several witnesses are expected to testify during Tuesday's hearing.