This is an archived article and the information in the article may be outdated. Please look at the time stamp on the story to see when it was last updated.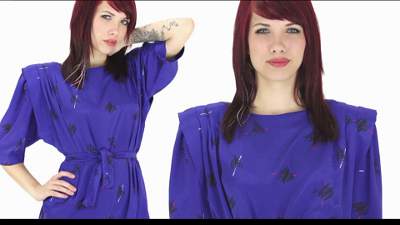 Superstar Madonna may still be making headlines for her songs and Super Bowl performance. But, it's the styles she made popular during the over-the-top decade of the 80's that are popping up in closets this century.
When Iowa State University Student Kate Howe thinks of the 80's she says, "I definitely think Madonna, all the way."
It's hard to ignore the fashion icon when you talk about 80's fashion. Student Lisa Bradshaw says, "I just think of bright colors, patterns."
Fashion forward students at Iowa State University's Apparel Design and Merchandising department say even though many of them weren't alive during the glitz and glamour of the eighties, they're still rocking the bangle bracelets and leggings leftover from the decade. Junior Kenzie Besch says, "I think it was a really fun decade. I think there was a lot of different trends going on that we're seeing that are coming back, like the leggings, the off the shoulder look."
And, design students Sam Silver and Kate Bell are trying to bring back a trend you may have forgotten. Silver says, "We're using, if you remember Hypercolor, from the late 80's, early 90's."
Hypercolor is a technique that uses a special dye, so the heat from your hand changes the color of the shirt when you touch it. Silver and Bell are designing five high fashion outfits with the dye for a special project this spring. Bell says, "I know a lot of people who don't remember Hypercolor shirts when we were younger. They have heard about our project and they're like, oh, that's really interesting, I would wear a shirt like that."
But, there are some trends people who lived through the 80's don't want to see make a comeback. Iowa State University Professor Emeritus Jane Farrell-Beck says, "Those big shoulders."
Farrell-Beck has written books about the history of fashion. She says, "I do see things coming around again, but maybe not in the same way."
She says designers are always looking for inspiration and styles comeback in cycles, usually every twenty to thirty years in slightly different fashion. As an example, she points out the off the shoulder look, saying, "But normally it's layered with something, instead of just showing the shoulder, it's showing a bra strap, it's showing a camisole."
And, she says so far the comeback isn't as over the top, so maybe we won't see another big style statement of the decade: big hair. Bradshaw says, "Stay away from the hair."
You can see the Hypercolor fashion project on display at Iowa State University's MU this April. You'll also be able to check out other student designer's work at the school's annual fashion show. Tickets go on sale February 13 for the April 14th show at Stephens Auditorium.