This is an archived article and the information in the article may be outdated. Please look at the time stamp on the story to see when it was last updated.
All three of the women who call themselves Gabriel McFarland's mom are speaking out.
The four-month-old boy died Tuesday after his mother found him alone in her apartment.
Watch the adoptive parents' response
Gabriel McFarland's room is a sad place now. His crib is empty and his toys and clothes are already packed up in a box.
"It's like every time I come home it's just really sad."
Gabriel's mother Markeya Atkins found him unresponsive when she returned home Tuesday evening.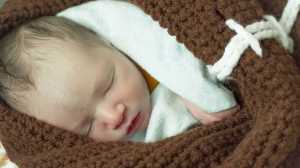 "He has a blanket over him and was turning blue and he had stuff on his mouth," Atkins recounted in an interview with Channel 13. "I just started crying… I just started screaming and I started patting his back so I can wake him up."
Atkins says it was the first time she'd left her baby alone with his father, Drew Weehler- Smith who is now charged with child neglect.
"I never thought in my wildest dreams this would happen," the 16-year-old said.
Gabriel had only been living with Markeya for a little more than a month.  He spent his first three months of life with adoptive parents, Rachel and Heidi McFarland.
When she found out she was pregnant, about five months along, Atkins says she knew she wasn't grown up enough to raise Gabriel.
"I just thought – the rest of my life – am I really ready to give away the rest of my life for someone.  And I just felt like it was the best way to go about it."
But in mid-February, Atkins started to have second thoughts.
"I went to Rachel's house one day and I was just sitting there holding the baby and then Rachel looked at the baby, like he was in my arms and Rachel looked at the baby straight in the face and said 'mommy's here and gave him a kiss on his forehead.' So after sitting in there and thinking about it I just passed her the baby and I just stormed out," Atkins says.
"It really hurt my feelings because my mom was not there when I made the baby."
Atkins says she felt belittled and used. She made a list of the pros and cons of getting Gabriel back.
"I couldn't for the life of me think of anything that could go wrong with getting him back."
Being a 16-year-old, single parent without a job or a high school degree didn't make her think twice about her decision.
"When you have a baby it's like this instinct comes on where a part of you just feels like you have something left in this world."
But Gabriel is no longer part of Atkins' world or the McFarlands' world – a fact that seems to be lost on his birth mother.
When told Heidi and Rachel said they hope this is a wake-up call, Atkins responded, "I hope it's a wake-up call for them." Adding, "They have no right to talk to me about that. I did absolutely nothing wrong. I took care of him."
"They can't say they were better mothers than me, because that's not the case … they're trying to make it seem like I just snatched him out of their hands… it's like they just let go and didn't care anymore and now they care so much."
Adoptive parents are angry with their attorney
Atkins eventually stormed out of the interview and told us to leave.