This is an archived article and the information in the article may be outdated. Please look at the time stamp on the story to see when it was last updated.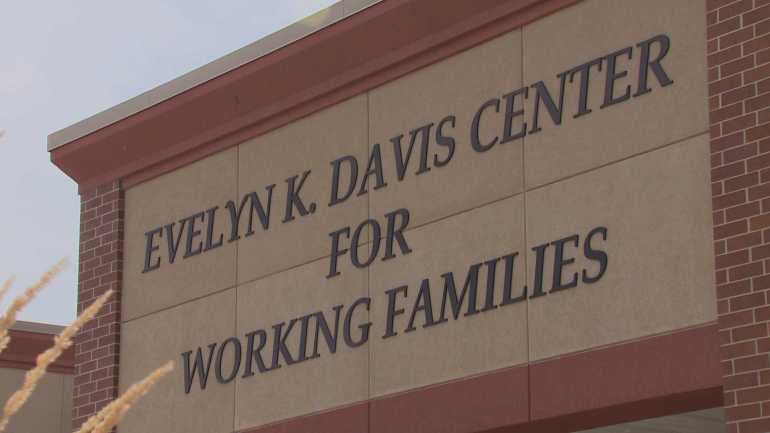 DES MOINES, Iowa – For three years now, the Evelyn K. Davis Center for Working Families has served as a beacon of hope for those struggling with job security.
Friday, the center celebrated its three-year anniversary. Located at 801 University Avenue, the center partners with the Community Foundation of Greater Des Moines, DMACC, and the United Way of Central Iowa to provide Iowans workforce training, employment opportunities, and grocery and retail services through a connected store next door. Education and employment resources include job search assistance, job interview preparation, job placement, resume assistance and career/digital literacy.
DMACC President and CEO, Rob Denson, spoke at the anniversary ceremony on efforts the center and its partners are still pushing for. A major focus area within the next year is successfully launching a youth employment program that will give high-school-aged youth summer jobs. A pilot version of the program has existed for the past three years the center has been open, but Denson says it still has a long way to go – and he hopes to see it succeed in the center's fourth year.
"We've been working now for three years on a youth employment project where we're trying to find jobs primarily for high school students or high-school-aged youth," he said. "This year we had 400 students – this was our third year of the pilot – we had 400 youth want jobs. We were able to place 72. You know, that's not good enough."
Denson says each summer, hundreds of inner city youth in Des Moines are put out on the street with nothing to do. With new partnerships forming, Denson hopes the Evelyn K. Davis Center can begin to place more than 400 youth in eight-week job programs across the Metro each summer.