This is an archived article and the information in the article may be outdated. Please look at the time stamp on the story to see when it was last updated.
I really had the best of intentions on Monday.
I had my blog post all planned out in my head.  With pictures!
Unfortunately, that post is still in my head and not online.  It shall remain there until a later date because now I have something else to blog about!  I meant to post this yesterday. I couldn't because I was so exhausted.
This post is about pushing yourself physically and mentally, but it's also about fear – and overcoming it. A store I love prints fun one-liners on its bags and one of my favorites is, "Do something that scares you." When you think about it, it makes sense. We usually avoid what scares us or makes us uncomfortable. But think of the sense of pride and accomplishment there is in facing that fear; or allowing ourselves to be uncomfortable and not only surviving the situation, but actually thriving because of it!
The exhaustion and fear-facing is Personal Trainer Angie Gallagher's fault.  She invited us to join her at the Urbandale Fire Department to review the physical ability evaluation.  Of course that meant we had to try it.  It's easily the most physically demanding "workout" we've ever done and part of it was terrifying for me.
There are seven tests.  This is me doing the first one – hydrant operation.  As this point I was thinking, "This is harder than I thought it would be!" But it was totally manageable.
This is Sonya doing the second test – the hose pull.  This doesn't seem awful until the hose starts to straighten out.  It is heavy. Plus, it was nearly ninety degrees on Tuesday. We were suffocating by this point.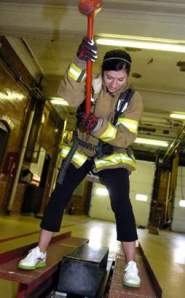 Somehow there isn't a single picture of either one of us doing test number three (so here's one I found online). This is the ventilation simulation. The point is to see if you have what it takes to deliver blows with the right technique and enough power to bust through a roof or a door. We had to use a sledgehammer to move a prop (a very heavy prop) a distance of twenty feet.  This is when I really thought my heart was going to explode.  I was SUCKING AIR and I was embarrassed by how exhausted I was.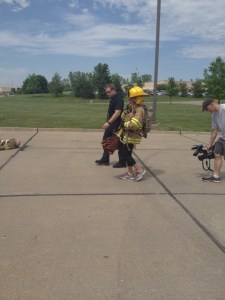 The fourth test is the hose carry. This is me lugging 150 feet of fire hose. This is hard, but it feels like a break compared to the previous three stations. I just tried to think of this bundle as a really, really big purse.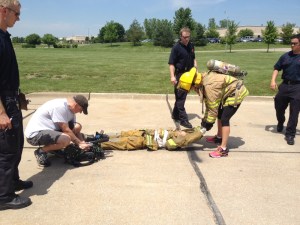 Test number five is the victim drag.  This dummy weighs 165 pounds and this is one of Sonya's many tactics in moving it.
Oh by the way – you have to get through these five tasks in FOUR MINUTES OR LESS.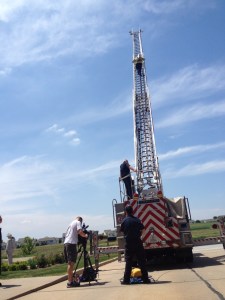 We got a five minute break before heading to test six – the aerial ladder climb.  It's 75 feet, which doesn't sound too bad until you're about halfway to the top and you make the mistake of looking down. You have to make it up and back in three minutes or less.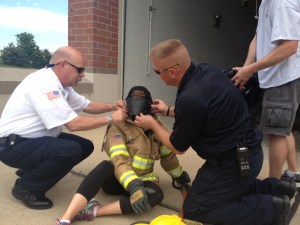 The final test is the room search.  I just fell onto my rear at the end of it.  You have to wear a blackened face piece to simulate working in total darkness.  The objective is to crawl on your hands and knees, using your hands to follow a length of hose. You have to complete this drill within three minutes.
Did we pass?  You'll have to tune in a few weeks from now to find out.  There's also a whole lot more to this story than just a "Workout of the Week". Our thanks to photojournalist Randy Schumacher for shooting with us.
If you're interested in checking out the requirements for becoming a candidate for UFD – here's the information.  You can apply through next Tuesday.
By the way, Sonya's started a blog.  You should check it out!