This is an archived article and the information in the article may be outdated. Please look at the time stamp on the story to see when it was last updated.
Oh friends, you crack me up.
My previous blog post is easily the most read and commented on thing I've ever posted.  I love that you love the stories and pictures that make you say, "Ewwwwww!" and "What the heck?!?!?!"
So here's the latest…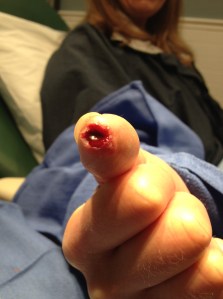 You'll remember that this is what my thumb looked like right after Dr. Cherny cut out all of the infected tissue and the mysterious "foreign objects".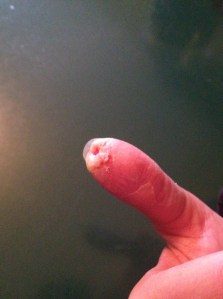 After just a few hydrotherapy treatments with Erika, things started improving.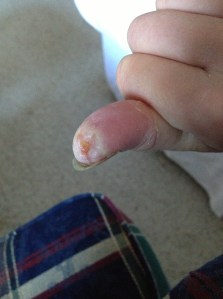 By last weekend – this was the way my thumb looked.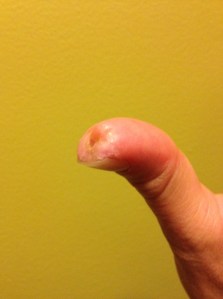 And here's the status today.  Isn't it amazing how much that hole has filled in?!?!  Dr. Cherny put it best, "God made the human body so it would do a lot of the work to heal itself."
I know you're dying to know what the foreign objects were.
They weren't.
Seriously.
They were "calcifications" and likely had nothing to do with any of this.
The lab results also showed that I had staph infection.  The popular theory is that I had some sort of small cut or scrape on my thumb and I picked up the infection during a workout.
Let my experience be a warning to you. If you have a cut or a scrape, keep it covered!  Clean equipment at the gym before you use it!  When you can, use your own mat and clean it regularly!
Finally, my sincere thanks to Dr. Grunewald who took action to get me right in to Dr. Cherny's office, to Dr. Cherny for being so kind to me even though he deals with far more serious cases than mine, and to Erika for helping me recover more quickly than I otherwise would.   I am grateful.