This is an archived article and the information in the article may be outdated. Please look at the time stamp on the story to see when it was last updated.
What a beautiful day!  I walked to work this afternoon and it was glorious.  I wouldn't chalk that up to a "workout" but I am tired and sore after being tortured by trainer Irene McCormick this week.  Sonya and I like to call her "Mean Irene" or "The Queen of Mean".  We love her, but our butts hurt.
It turns out exercising outside is good for you in a lot of different ways.  This article highlights some of them.
Some types of outdoor exercise are "hotter" than others.  Michael and I watched Top Gun earlier this week.  That volleyball scene … still classic.
Walking to work meant wearing one pair of shoes…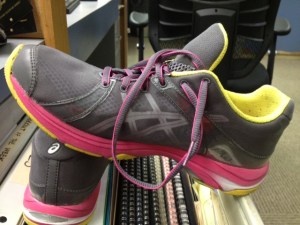 … and toting another …
These are not the new shoes I mentioned in my post earlier this week.  My new shoes don't match today's outfit.  And yes, for those of you who are wondering – Sonya, Dan and I do communicate with regard to color scheme.  It may sound silly, but there have been occasions when our outfits clash so badly is it distracting.  Although sometimes I think it looks like Dan and I are going to a school dance or getting a family picture taken because our outfits are so coordinated.
Speaking of coordinated outfits…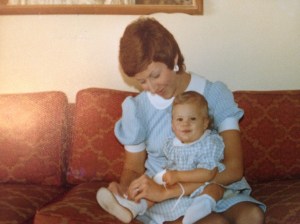 I received an Easter package from my mom today and she included some old pictures.  That's us, wearing outfits she made.  This look isn't as coordinated ….
… but my dad is rocking that pink suit.  How funny.
Michael and I made these cute Easter treats last night.  They are delicious, but be forewarned if you decide to try making them… the Rice Krispies Treats are simple enough to make, but the molding, stuffing and squishing to make the eggs is more time-consuming than we thought it would be.
Happy Easter!