This is an archived article and the information in the article may be outdated. Please look at the time stamp on the story to see when it was last updated.
The Iowa State Fair is in full swing and it has me reminiscing about my time in 4-H.
Sonya and I have been cracking each other up telling stories about this period in our lives.  Remember keeping a 4-H Record Book?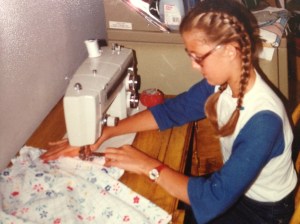 How about learning how to sew?  My Grandma Susan was an excellent seamstress and Mom wasn't too shabby, either.  Me – not so much.
Sewing and baking projects often led to some epic fights between Mom and me – hence the tear-stained face in this photo.
I think that episode might have led to me writing this line, "Sometimes I hate 4-H but other times I enjoy it."
I actually had a lot of fun in 4-H and I'm glad I can manage some mending and follow a recipe because of those experiences.
Do you have some favorite (or frustrating or funny) 4-H and State Fair memories?