This is an archived article and the information in the article may be outdated. Please look at the time stamp on the story to see when it was last updated.
Former Des Moines schools superintendent, Nancy Sebring has filed a lawsuit against the district, three school board members, the district's general counsel and its communications director.
The lawsuit stems from the release of Sebring's sexually explicit emails last year.
Sebring abruptly resigned in May of last year just before a series of sexually-charged emails she exchanged with a married army captain became public.
Now, her attorney claims those emails should never have been released.
The lawsuit claims the Des Moines School District "wrongfully released purely personal and private emails that disclosed intimate details about Nancy Sebring's personal life."
Those emails became public following an open records request by reporters.  Sebring's attorney, Tom Foley says even though the emails were sent from Sebring's public account, the personal emails should have remained private.
"It's the content of the message that should decide whether or not it's a public record or not," Foley told Sonya Heitshusen.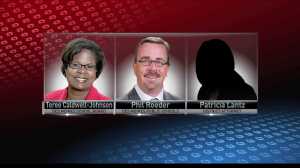 Sebring specifically names former board president Teree Caldwell-Johnson, district spokesman Phil Roeder and the district's attorney, Patricia Lantz in the lawsuit.
It claims they conspired against Sebring by tipping off the Des Moines Register and telling its editor he "had to see these emails."
Sebring also claims the defendants "leaked the story to the Omaha World Herald," which forced Sebring to resign from her future position with the Omaha school district.
All of this, according to the lawsuit, has caused Sebring great emotional distress, damaged her reputation and prevented her from getting another job.
Lawsuit "unbelievable"
Superintendent Tom Ahart says the lawsuit is "unbelievable" in a statement given to Channel 13.
"This lawsuit is unbelievable. In this matter, the school district did the right thing and properly released public records according to Iowa law, a fact that has already been established by the Iowa District Court.
"As a public school district, we abide by the state's open records law, and will continue to properly respond to requests for public records. Everyone at Des Moines Public Schools is focused on our number one priority: the education of our 32,000 students."
Current Des Moines school board member, Joe Jongewaard says he intends to fight the lawsuit and will not vote in favor of an out-of-court settlement.
Des Moines Register implicated
Clarifying their role in the scandal, Des Moines Register editor, Rick Green released a statement to Channel 13 saying, "Ms. Sebring's lawsuit against her former colleagues and her employer once again places her use of public equipment and taxpayer-funded resources squarely into the public eye.
"I won't discuss specific allegations made in the lawsuit. However, we are as confident today as we were a year ago in the strength of The Register's news gathering on this matter of public importance, the accuracy of our stories and the news judgment we exercised in choosing to publish key parts but not all of the district's emails we obtained under the Iowa open records statute," Green added.
Sebring told Channel 13 News she was not available for comment but there's little doubt she's been advised that this lawsuit will dredge up a lot of old, possibly embarrassing issues.
Gillette lawsuit
The school district is also being sued by Graham Gillette over whether the board went into closed session legally when it met to discuss Sebring's resignation in May of last year.
Gillette believes the board actually closed the meeting because they wanted to discuss, in private, how to handle this whole situation.
A judge is currently deciding if a recording of that meeting should be made public.