This is an archived article and the information in the article may be outdated. Please look at the time stamp on the story to see when it was last updated.
DES MOINES, Iowa — Des Moines police have arrested Ngor Peter Makuey, 19, in connection with a homicide Wednesday night.
It happened at Vista Kennels at 4400 Northeast 46th street in Des Moines. Harriet Anderson, 94, called police at 7:44 p.m. saying a young man broke into their home, assaulting her and her husband, Rupert Anderson.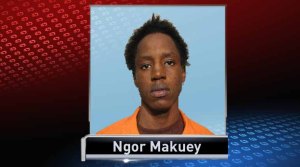 Paramedics took Rupert to the hospital where he died. Rupert was 97-years-old. Rupert was born in Ankeny and served in the U.S. Navy.
Harriet was also taken to the hospital and is in stable condition. People were called in to take care of the dogs. This is the sixth homicide in Des Moines this year.
Police booked Ngor Makuey Thursday shortly after 4:30 a.m. in Polk County Jail. He is being charged with first degree murder. His bail has been set at $1-million.
Des Moines police say Makuey lived a short distance from the victims' home at 4653 Hubbell Ave and had no history with the police department.
Police say they haven't yet established a motive.
During a preliminary hearing Thursday morning, Makuey's appointed attorney asked him to stop jingling his chains numerous times. Makuey rolled his eyes and eventually stopped. Makuey is not a U.S. citizen. He is from Ethiopia. Makuey requested the judge notify the Ethiopian Consulate of the arrest.
Makuey enrolled in Southeast Polk High School last January.
Makuey lived a short distance from the victims' home. He has no history with the Des Moines Police Department prior to the homicide. Police say the victims were attacked by a metal instrument. Rupert died from blows to his head with an unidentified object. No motive has been identified at this point.