This is an archived article and the information in the article may be outdated. Please look at the time stamp on the story to see when it was last updated.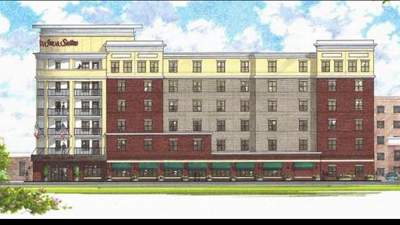 Downtown Des Moines' riverfront will soon have two new hotels. However, it didn't come easily. Monday morning, the city council ended a long debate about what kind of bricks to use on the outside of the development.
  The hotel developer's original plans called for a "thin brick" veneer. However, the city of Des Moines' design board worried the thin bricks could lead to mold and wouldn't fit in with the city's vision for the riverfront.
  The project needs approval from the city council because the developer is getting an incentive package that includes 23 years of property tax breaks and a $1.1 million loan.
They wanted to use thick brick, calling it more durable and aesthetically pleasing. However, that would have added hundreds of thousands of dollars to the cost, something the developer called a deal breaker. But the city's design board had major concerns with the original design of thin brick panels.
  "There can be an application of the product that has a very flat appearance to it and if it's not installed properly it can have moisture problems over time," says Des Moines Urban Designer Erin Olson-Douglas.
  However, the alternative, thick bricks, would have cost the developer an additional $400,000 thousand. An expense he said was unnecessary. Developer Ravi Patel says the debate followed him everywhere.
  "I dreamt that some of the neighborhood kids tried to kick the thin brick off the buildings and they failed, of course, due to the correct installation," says Patel.
  Patel says if installed correctly, thin bricks will hold moisture and they will fit in with the urban design the city wanted near the riverfront. A team appointed by the city manager agreed.
  "Not only does project have a strong integrity, but over time can have the appearance that will be fitting of the site," says Olson-Douglas.
  Patel originally planned a $12 million one hotel development. But with incentives and a push from the city, he'll now build two hotels and a parking structure worth $33 million.
It's the difference of a "highway hotel" to a "riverfront dream" according to one council member. A project they hope will transform the face of downtown.
  The city will have a 3rd party on site to make sure all the design plans with the thin bricks are followed to a tee. The developer says they will break ground in the next 45 days. The first hotel, The Hampton Inn, will open next spring with a second hotel, to be determined, to open at the end of next year.