This is an archived article and the information in the article may be outdated. Please look at the time stamp on the story to see when it was last updated.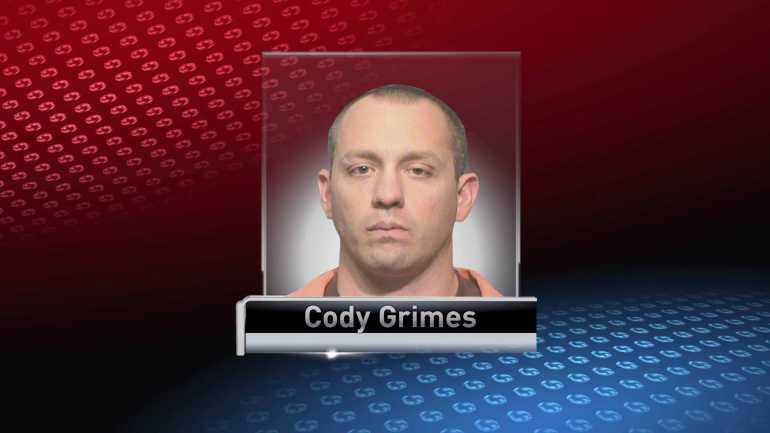 DES MOINES, Iowa — Disgraced former Des Moines cop Cody Grimes may soon be in a police uniform again, even though the department doesn't want him there. Grimes was fired after he was arrested on a domestic assault charge in 2013, but now the city's civil service commission is expected to order Grimes be reinstated.
The woman he is accused of beating, his ex-girlfriend named Alexandria, says she was forced to move to another state because she's so afraid of Grimes. We're not releasing her last name because she still has family in the area.
"I moved thousands of miles away just so I can remain safe." she explains,  "I'm afraid that he's going to retaliate and he's gonna kill me."
Alexandria says she and Grimes were breaking up when she went to a home where he was staying to get some things. That's when she says Grimes attacked her.
"He choked me and he pushed me and picked me up and threw me around the apartment area that he lived in," Alexandria said.
Grimes was arrested three days later, even though police reports indicate there was evidence that she suffered some injuries.
Alexandria says Des Moines police and the County Attorney's office pressured her against pursuing domestic abuse charges.
"There was a couple people who kept calling me and harassing me, saying we need your story again. Every single day they would call me and the Polk County Attorney said, 'you know, we can go to trial but he pretty much persuaded me that if we go to trial and one person (on the jury) doesn't agree to it then everything's dropped,'" she said. "I felt that no one was on my side. That no one was on my back. and I knew I had enough evidence but they were pushing me to not go forth with it."
Grimes pled guilty to criminal mischief charges to settle the case. And this isn't his first problem.
In 2010, while responding to a call at KCCI-TV, Grimes shot at a photographer who worked there, mistaking him for a suspect. Then in 2011, Grimes beat groom Jake Twombly unconscious at Twombly's own wedding, breaking several bones in his face, after Twombly reportedly pushed one of his groomsmen into an off duty officer.
"They just came running in through the entrance of the room. Hit me in the back of the head and I went down to the ground" Twombly told us in a 2014 interview.
Witnesses said Twombly was calm and in handcuffs when Grimes beat him. Twombly was found not guilty of any charges, and the city settled a civil lawsuit by paying him 75-thousand dollars.  An internal investigation by the police department cleared Grimes of any wrong doing in that case, but police will not release the details of that investigation to us.
Still, police stand by the decision to fire Grimes.   "Correct." Sgt. Jason Halifax with the Des Moines Police Department said, "We didn't reverse our position."
Alexandria says if Grimes is given his badge back, everyone in Des Moines should be afraid.
"He's dangerous. He's a liability. And he's gonna end up really hurting somebody."
When asked if she believes Grimes is going to kill someone, Alexandria replied, "I do. Maybe not today, maybe not tomorrow, but soon enough."