This is an archived article and the information in the article may be outdated. Please look at the time stamp on the story to see when it was last updated.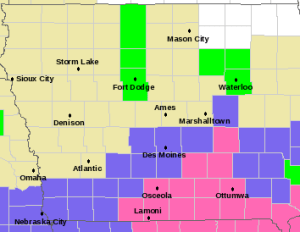 Hello again! In the last blog I said Des
Moines
was not in the advisory area "yet". Well…we made it.
The new warning map shows the purple counties that now include the metro in the winter weather advisory.
The pink counties are now included in a winter storm warning.
That area of
southeastern
Iowa will see 5 to 8 inches of snow.
In the metro we will see widespread 2 to 3 inches of snow, but there will be pockets of heavier snow.
As I told you last night on the news at 10 PM… this storm had the potential to move slightly to the north. It is doing just that. It is moving into southern and central Missouri. It means more snow for us.
More updates coming your way this afternoon.