This is an archived article and the information in the article may be outdated. Please look at the time stamp on the story to see when it was last updated.
A cut-off low pressure system is bringing cold temperatures, strong winds, heavy rain and snow to central IA this morning.  As of 8:00AM this morning Algona is reporting 10.50", Fort Dodge, 5.50", Sac City 5.00" of measurable snow.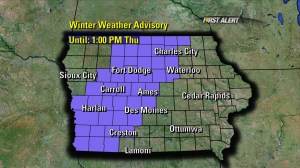 Winter Weather Advisory in effect until 1:00PM for the cities of Des Moines and Ames (areas shaded in purple on graphic)
Heavy/wet snow expected between 3-6 inches in the Winter Weather Advisory area.
Winds will be strong out of the North at 20-35 miles per hour, which will reduce visibilities to less than a half mile at times.
Roads are expected to become snow covered and slushy as the snow intensifies.
Snow will continue in parts of the state through Friday morning.  Friday afternoon this will turn over to all rain and continue through much of the day on Saturday.  Saturday evening and Sunday we will slowly start to see the rain letting up. Temperatures will climb to around 60 degrees by the end of the weekend.
Next week Spring will return with dry conditions and temperatures in the 70s by midweek.