This is an archived article and the information in the article may be outdated. Please look at the time stamp on the story to see when it was last updated.
CLIVE, Iowa--As a young boy, Sergei Neubauer suffered abuse after the government placed him in an orphanage in Russia. A Clive couple eventually adopted him and brought him home to Iowa but could never truly take away his pain. Sergei took his own life after struggling for years with mental health issues. Last month, his parents buried him on what would have been his 19th birthday.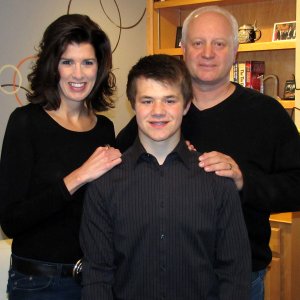 "There just isn't any," Mary Neubauer, Sergei's mom, said of the long-term mental health treatment facilities she believes her son really needed.
Watch Sergei's parents open up about his struggles with mental illness and their frustration with a lack of facilities to help their son. 
Neubauer said Sergei dealt with night terrors from his abuse in Russia, along with Post Traumatic Stress Disorder, anxiety and depression. The family tried counseling and while Sergei would sometimes show outward signs of happiness, he frequently struggled with the weight of his mental health challenges.
(Mary Neubauer, Larry Loss and Sergei Neubauer. Photo courtesy: Mary Neubauer.)
His parents struggled to find the right place to help him get better. They could never find appropriate treatment in Iowa but tried expensive out-of-state facilities. Neubauer remains frustrated that there was no better option.
"If you break your arm, your family doctor says, 'here's the specialist you should go see.' If you--God forbid--have cancer, your doctor says, 'here's the specialist you need to go see.'" Neubauer said, "And in Sergei's case, it was obvious that he had mental health needs. And we were saying to people where do we go?"
Larry Loss hopes that by sharing Sergei's struggles, it will change conversation in Iowa. Perhaps, other families will be more willing to open up about their own mental health issues and decision-makers will take the lead in creating more long-term treatment programs or facilities for those who are suffering.
He also hopes those in need of care will ask for it immediately. "The message I would have for anybody who is struggling right now: it takes strength to ask for help. It's not a weakness. And sometimes, Sergei would perceive that if he was asking for help, that he was being weak. But you're not. You're being strong," Loss said, "If you need help, ask for help."
One in five Iowans deals with some type of mental health issue. The National Alliance on Mental Illness offers help in finding counseling and treatment. 
Watch Peggy Huppert, NAMI of Iowa Executive Director, detail what is lacking in the state for those needing mental health treatment. 
Governor Kim Reynolds became emotional discussing recent suicides of Iowans like Sergei Neubauer. See her comments here. 
Here is Dave Price's challenges to Iowans on improving life for those dealing with mental health issues.