This is an archived article and the information in the article may be outdated. Please look at the time stamp on the story to see when it was last updated.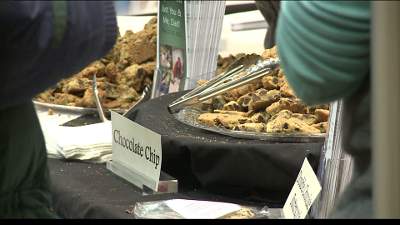 The Iowa Machine Shed served up ice cream topped with chocolate and bacon at WHO Radio's Van and Bonnie's free chocolate breakfast.
They expected about seven thousand people to file through the Hy-Vee Conference Center sampling sweet treats from 5:00-9:00 Friday morning.
Fifty chocolatiers handed out samples of brownies, cookies, cakes even beer.
WHO radio host Bonnie Lucus says this is the ninth year for the popular event.
"You know, Van, the very first one, I said, 'We should have a chocolate breakfast.' He said, 'Who would come to that.' I said, 'Oh, you'd be surprised,' and of course, we get mobbed every year."