This is an archived article and the information in the article may be outdated. Please look at the time stamp on the story to see when it was last updated.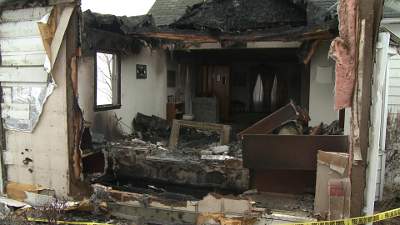 A seven year old boy went to the hospital this morning after escaping from his family's burning home. The fire broke out around 1:30 AM at 1410 165th St in Earlham. Three people were inside at the time. While they are safe, the home is a total loss.
"That was the living room right there. Was," says Danny Johnson.
He and his girlfriend and her two kids moved into the rental home in January. Johnson woke up to the smell of smoke and saw flames coming out of the roof.
"It was just orange and coming out of that ceiling there," he says.
Amber Scott ran to the living room where her seven year old son was sleeping. She grabbed him, the family pets and ran out into the cold.
"It's pretty obvious that it stared in the fireplace area," says Earlham Fire Chief Shawn Boyle.
While the snow and cold slowed their response time just a bit, Boyle says there is a simple way to avoid situations like this.
"Clean your chimneys once a year, preferably at the beginning of the season. Have them inspected, make sure that all the seals and everything are still good on them and that they are clean and have good air flow through them so that this kind of situation doesn't happen," says Boyle.
Johnson knows he and his family are lucky. He woke up just in time.
"I have no idea. That's the whole thing, I just woke up," he says.
The seven year old boy was treated and released from Blank Children's Hospital. Tonight, Johnson, Scott and her two kids are staying with family in Des Moines.