This is an archived article and the information in the article may be outdated. Please look at the time stamp on the story to see when it was last updated.
The Chicago Cubs are hoping not to be closed out of the World Series, with one of their fans hoping to hear them win.
Bert Doran lost his eyesight during World War II, but never his love for the Cubs and it's something the team has acknowledged.
Wounded in the Battle of Iwo Jima, 92-year-old Bert Doran received a Purple Heart but he definitely bleeds Cubbie Blue. After hearing a piece of his life story on Channel 13 during the NLCS series against L.A., the Chicago Cubs organization now considers him one of their biggest fans of all time.
"Three hats and a t-shirt and that towel the girl put inside that frame and Ron Santo," he said. "I just want to thank them and be thrilled that I got all of that stuff."
A care package showed up at Doran's door over the weekend from the Cubs. Ron Santo is Bert Doran's favorite Cubs player but current third baseman Kris Bryant is getting a lot of his attention these days and has become his favorite from this year's team.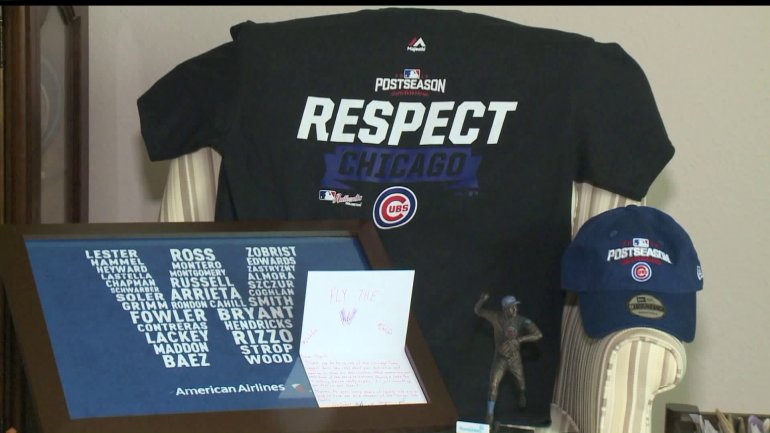 Doran also received a hand written card from the organization that thanked him for being a long time Cubs fan and sticking with the team through all these years.
Since Bert has seen it all, he was asked what it will take to win Tuesday's game and force a game seven against Cleveland.
"It'll be how Bryant plays and Rizzo the first baseman," he said. "Those are the two home run hitters. 4-3 hopefully for the Cubs, but I'm not guaranteeing that."
If the Cubs can pull it out against Cleveland in Game 6 and win Game 7, Bert has his celebration meal planned out.
"I think I'll go to a restaurant and order a steak, potatoes and gravy and a couple of beers," he said.