This is an archived article and the information in the article may be outdated. Please look at the time stamp on the story to see when it was last updated.
DES MOINES, Iowa -- Authorities arrested a wanted felon after he led police on a chase and crashed his van Thursday morning.
Des Moines police say they took Brian Palm into custody in the 900 block of Cleveland  Avenue around 10:15 a.m. after Palm crashed his van into a tree.
Police said Palm was wanted on several felony warrants and officers had been surveilling an east side residence for weeks before they spotted him Thursday morning. He took off in a minivan when he noticed officers. The chase lasted about five minutes.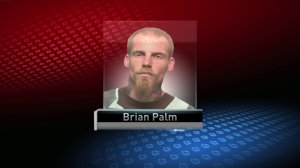 Palm was transferred to a local hospital for treatment of non-life-threatening injuries. No one else was injured in the chase.
Des Moines Police Sgt. Paul Parizek said Palm is known to police and had run from officers before. Palm and another man were arrested in November 2014 after leading police on a high-speed chase through backyards and trails in Pleasant Hill.
Palm was recently wanted for eluding and burglary felonies. He was also wanted on a parole violation.
"He's a well known violent offender, so it was good to get him off the streets. He's not safe out there, and we're happy that he's locked up," said Parizek.
Palm will be transferred to the Polk County Jail after he is released from the hospital.