This is an archived article and the information in the article may be outdated. Please look at the time stamp on the story to see when it was last updated.
We had some internet issues at work Saturday, so I didn't get to do my catchup blog. So, here are a few thoughts on the past week of work I missed while we were on vacation.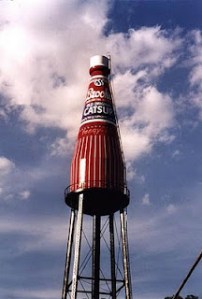 Yeah, I know. This is catsup. Not catchup. But it's close:) This picture is in honor of a town where I used to live: Collinsville, Illinois.
It's home to world's largest catsup bottle
, or so it claims. This is 170 feet tall and stands where the old Brooks Catsup plant used to operate. Collinsville also hosts the
International Horseradish Festival.
I don't know if they serve catsup there.
O.K., here we go…
Waterloo Representative Kerry Burt has given up his re-election bid. That ends an uncomfortable position for Democratic leaders. More on that in a bit. First, the catchup…Burt already pleaded guilty to drunk driving last year. You'll remember he said he had been drinking with Governor Chet Culver, although the governor's staff maintains the two were not downing drinks together all night and that the gov couldn't say where Burt was the final five hours of the evening. Burt, who is also a firefighter, refused to resign from his seat following the incident. Although, now that the attorney general has filed criminal charges against him for lying about where his kids live, Burt has now given up his re-election efforts. Burt sent his kids to a school at the University of Northern Iowa.
The A.G. contends Burt used a false address for his kids to he could pay a fraction of the tuition costs he should have paid (he should have paid about $37,000 more according to the A.G.).
Another Democrat, Anesa Kajtazovic, had already filed to run against Burt in the primary before the charges came down against him, so this now avoids putting Democratic leaders in a tight spot where they have to choose Burt or his opponent in the primary contest. Problem avoided…well, other than the fact that Burt could now go to prison.
Paddy O'Prado. Quite a name, huh? The horse hopes to make quite a name for himself and for Iowa May 1st at the Kentucky Derby. Paddy is owned by regular Channel 13 Insider and Des Moines Democratic activist, Jerry Crawford, along with a handful of other Iowans.
That isn't Crawford on the horse, in case you were wondering:) Here's a release sent on Crawford's behalf:
"Iowa, we're going to the Derby," was the announcement Jerry Crawford made today after the 86th running of the Toyota Blue Grass Stakes at Keenland in Lexington, Kent. He was referring to the second-place finish by Paddy O'Prado in the $750,000 stakes race, which is a qualifier for the Kentucky Derby. The top 20 horses ranked by graded earnings qualify for the Derby.

A Crawford-led investor group, Donegal Racing—composed primarily of Iowans—owns the three-year-old Paddy O'Prado, who broke his maiden on March 6 with a win in the Palm Beach Stakes at Gulfstream Park. The investor group bought the horse for $105,000, making him something of a Cinderella story, and with his qualification for the Kentucky Derby, he is on his way to the ball.

The Donegal investors in addition to Crawford are:

• Dennis Albaugh
• Jason Loutsch
• Peter DeCoster
• George Cataldo
• Gary Kirke Sr.
• Gary Kirke Jr.
• Judi Smith
• Joe Savage
• Bill Jacobson, MD

In today's race Paddy was actually leading before being overpowered by long shot Stately Victor.

The Kentucky Derby runs on May 1, at Churchill Downs and Kent Desormeaux, who has more Derby wins under his belt than any other active jockey, will be riding Paddy. Desmormeaux rode Paddy in the Blue Grass Stakes today.

The Derby is run on dirt and the Blue Grass was run on polytrack. Paddy broke his maiden on turf.