This is an archived article and the information in the article may be outdated. Please look at the time stamp on the story to see when it was last updated.
Just back from a few days at the National Sportscasters and Sportswriters Association (NSSA) awards convention. It was a great weekend of camaraderie, discourse, and laughs. It's always nice when you're reminded why you chose the career you did, why you still love it, and why you want to improve. The weekend in Salisbury, NC—home of the NSSA Hall of Fame—did all that for me, and I'm grateful my boss sent me, and my friend and colleague John Walters encouraged me to go…
If you'll indulge me, I thought I'd share a few pictures from the trip. You'll be able to tell when my camera battery died and I had to go to the Blackberry with no flash: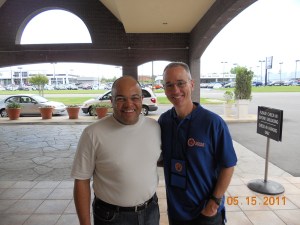 Mike Tirico is the National Sportscaster of the Year. He's a consummate pro, makes the difficult look easy, and is a nice guy to boot. Ron Jaworski and Curtis Strange attended just to see Mike accept his award.

Gary Dolphin and I laughed for two days watching Ask Dolph skits from SoundOFF and quoting our favorite lines from Wedding Crashers. Also featured in this photo: a lot of the wall.

The Neil Diamond impersonator had us singing all the cheesy lyrics, some of which make no sense, but hey, I grew up on Neil. My mom loves the Jewish Elvis.

This is an attempt to look tough while wearing Hawaiia leis. Impossible. Dolph looks like Clint Eastwood trying to read an eye chart.

Dolph with the voice of the Tennessee Titans, Mike Keith. Mike has had that job for 12 years, and he's still young!

I've got to get back into golf. While 99% of the sportscasters and sportswriters were golfing, I took the historic tour of Salisbury on a trolley with (mostly) their wives. At least Sports Illustrated/NBC's Peter King also took the tour, which helped keep me from losing my man card.

Yes, Blackberry time. Peter King seemed genuinely surprised and humbled to be the National Sportswriter of the Year. Anyone who reads Monday Morning Quarterback is not surprised.

Took this pic myself. Can you tell? Bob Ryan was inducted into the Hall of Fame along with Bob Uecker and Brent Musburger. I loved Bob's comment that Sport is different from Entertainment because Sport is unscripted and you never know what you'll see. It's the ultimate reality show.

There was an amazing silent auction to raise money for NSSA. I bid on this autographed Dr J jersey, but came up WAY short. Good thing too. I don't even have a man cave yet.

Andy, Hassel, and Bryce Miller all thought I should drain my bank account for a signed Soup Nazi pic. Seinfeld fans understand.