This is an archived article and the information in the article may be outdated. Please look at the time stamp on the story to see when it was last updated.
(Chris)
Mother Nature hates the I-Cubs. From snow, to rain, to floods — it's always something. For the 2nd time in 4 years, Iowa's opening day is postponed. They aren't making up the game until late June, which is smart. No one wants to see (or play in) a douple-dip, Saturday.
Big sports day, Saturday. Both the Hawks and Cyclones hold their respective spring games, the I-Cubs open at home, and the Barnstormers are home for just the 2nd time in 5 weeks. If I had my choice of attending any of those 4 events, I'd choose Barnstormers…and it's not even close.
If you want to see something resembling a football game, you better head to Ames. Iowa's spring "game" is no more than a practice inside Kinnick Stadium. It's, without a doubt, the most boring spring "game" I've ever seen. If you like watching players stretch, and hone their blocking skills, you might like it. If not, stay away. If Kirk Ferentz had it his way, wins and losses would be determined by which team has the more fundamentally sound practice. I can't argue with his results, but it makes for one boring day. That's why Iowa draws 15-thousand to it's spring "game", and Nebraska draws 70-thousand.
The Iowa Energy are one in away from the D-League finals. I wish people cared more about the outcome of Energy games. It would be fun to see 8 to 10 thousand fans inside Wells Fargo Arena for a D-League final, but it's just not going to happen. The Energy run a great show, but in the end, people just aren't that interested in the end result.
Iowa State suffered a huge blow, losing Jake Knott to a broken arm. The JR linebacker is one of the premier players on this years team. Knott underwent surgery, Friday, and he's expected to be back in time for August practice. If there's one unit I wasn't worried about, going into 2011, it's the ISU linebacking core — Knott and A.J. Klein are fun to watch.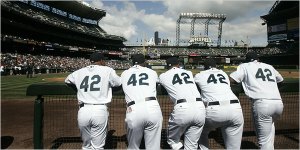 I'm all for Major League Baseball honoring Jackie Robinson, but the #42 weekend has me all jacked up. It's hard to tell one player from another when they're all wearing #42. I watched Albert Pujols hit a homer, and I actually had to ask a friend who hit it. Apparently my friend isn't having any problems adjusting.
Lolo Jones says she's coming to the Drake Relays, but she may not run. Why?!? I don't have any interest in seeing Lolo watching the events in the press box. She needs to run. I'm sure Relays director, Brian Brown, agrees.
The NBA Playoffs start, Saturday. As a Bulls fan, I'm all fired up. The problem is, the playoffs last waaaaay too long. You should be playing games every other day. No one needs two days off. If you sweep someone, you could get two weeks off! It's hard to build momentm when you're playing once or twice a week. The NHL does it the right way.
My friends made fun of me for wearing a shirt with French Cuffs, tonight. Are they out of style? I've had the shirt for 5 years, but I never thought I was wearing something that's outdated. Then again, I was a huge fan of 'jorts' until I moved to Des Moines. Keith and Andy had a field day with that one — then again, Andy wears flannel shirts, and Keith wears Jerry Garcis ties. We all have our faults…