This is an archived article and the information in the article may be outdated. Please look at the time stamp on the story to see when it was last updated.
Good Morning…and let me first say…I never thought he'd do it.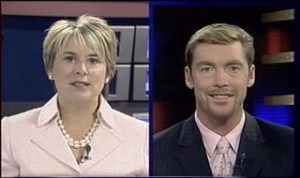 Brad Ehrlich took Jeriann's challenge and came back with a neatly trimmed goatee for work.
If you missed it, Brad was in the radio studios all last week. He was bragging about not needing to get ready for TV all week(he didn't shave). Jeriann told him she didn't think he could grow a beard…
In the loosest definition…this is a beard. Someone already wrote in an email to let us know:
"I think that Brad Ehrlich looks like Pierce Brosnan with his beard. You should do a split

screen and compare the two."
Well, I can't agree, but I thought he did look like Brad Hook.
To the news:
Storm Damage
The storms that came through Central Iowa last night might not have seemed like much to us here in the metro, but east of here and to the south there were tornado warnings all night. Chopper 13 went looking for the damage before the sun came up. We were reminded of how dark it is between 5-7 now. Summer is defiantly over. As of seven we started to see some of the good pictures coming back from Chopper and we'll have more for you on the Noon News.
Supreme Court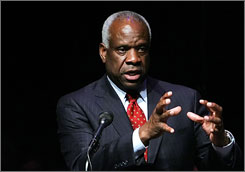 Executions, Voting, owning a gun in Washington DC and detainees at Guantanamo Bay will all be subject the Supreme Court takes up as it starts a new session today. I'm sure there's no mistake in the timing of a long interview given by Justice Clarence Thomas on
60 minutes
and in other news outlets like
USA Today
. I've linked in those stories so you can read a little more about Justice Thomas. I read
the 60 minutes interview
this morning and I have to say I learned a lot about Thomas. I thought he was candid about his comments and if the intent of the interview was to get us to read his new book, I think it worked.
President's Cup
If you missed it going into the weekend, The President's Cup had one great highlight. Woody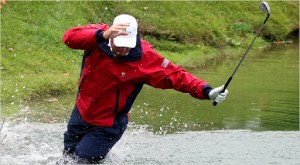 Austin tried to hit his ball out of a lake on the par 4 14th hole. He slipped and fell into the lake. Funny stuff but the NBC guys were merciless about it and played it over and over.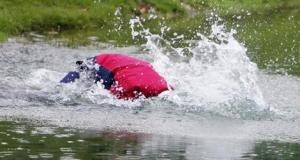 Phil Mickelson dubbed Austin "Aquaman" and it looks like the name stuck.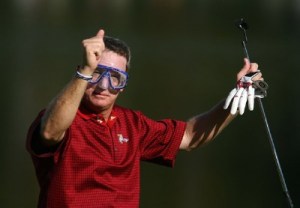 The players wives even got together and made Woody wear this mask on Sunday as he played the 14th…funny stuff.
Zach Johnson played and contributed a solid performance for the US team. The US won the matches.
So you can guess where I was over the weekend…couch…golf football etc.
Sally and I are still getting over our colds so we kind of laid low.
I did get a chance to see our old Assistant News Director. She was in town for the weekend which also happened to be Erin Keirnan's birthday. Erin has some people over to her house so I went to say hi. You should have seen the looks on people's faces when I walked in. We don't get out much on the morning shift. Anyway Erin and Michael have a lovely home and it was a great place to see some old friends.
Hope you all have a great beginning of the week.
PWD