This is an archived article and the information in the article may be outdated. Please look at the time stamp on the story to see when it was last updated.
(By Chris Hassel)
There will be close to 30-thousand fans at Carver Hawkeye Arena, Saturday. The basketball team is expected to sell out its game against #6 Ohio State. Then the #1-ranked Iowa wrestlers take center-stage as the Hawks host #2 Oklahoma State. The U of I expects over 15-thousand for the bball game, and close to that for the wrestling match. 1 vs. 2 is always great, but tomorrow is all about basketball.
I don't think there's any way to argue that the game against Ohio State isn't the biggest game the Hawkeyes have had since the 2006-07 season. That's the last year the Hawks were halfway relevant in the Big Ten. Iowa has a golden opportunity to prove to its fans that men's basketball is once again a sport at the U of I. With a win, the Hawks would have two victories over top-11 teams in the last 8 days, and they'd be 3-1 in conference play. A win over OSU is highly unlikely, but so were wins against Wisconsin and Minnesota. Hawkeye basketball fans have been waiting for years to have something to cheer about, and they'll get it on Saturday afternoon. Carver will be rocking. The question is, will the Hawks be able to keep their fans in it, by staying in the game.
Iowa State also has a big game with Texas A&M. ISU's conference opening win over Texas was somewhat overshadowed by Iowa's victory over Minnesota, but now the 'Clones have a chance to make some noise. Is this going to be the same ol' Cyclone team that can't win away from Hilton? Or will ISU show that it's ready to compete in the Big 12.
I guess the folks at 'Outside Magazine' ran out of dental floss during their recent cover shoot with Lolo Jones. Is that red ribbon? A finish-line perhaps?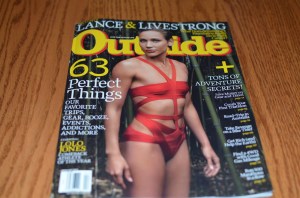 Keith keeps tweeting pictures of the monster truck event at Wells Fargo Arena. I can't help but think he's miserable. It looks so boring it's actually starting to ruin my night.
Fox's coverage of college football is the worst of any network in America. And what's the deal with the huge fetish for showing the band? Band shots to cheerleader shots are like 10-to-1. That's just not right.
What a weekend of bowl games! Saturday we get SMU vs. PITT in the BBVA Compass Bowl. Sunday we get Arkansas State vs. Northern Illinois in the GoDaddy.com Bowl. Congratulations to all four of those teams on making a January bowl game.