This is an archived article and the information in the article may be outdated. Please look at the time stamp on the story to see when it was last updated.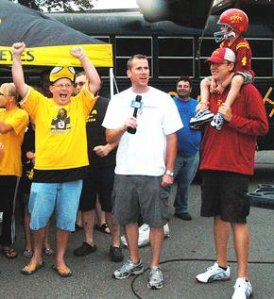 I love college football Saturdays. Standing in the rain is practically enjoyable when you're at Kinnick, even if the game is a dog, and the stadium is half empty.
Sure, Ball State is a terrible football team. But the Cardinals proved to be the perfect proverbial Bloody Mary for an Arizona hangover. The Hawkeyes got exactly what they needed out of the game. Kirk Ferentz feels more comfortable about his running back depth, and everyone was relatively healthy after 60 minutes.
Nice work out of the Iowa State defense. A shutout is a shutout, even when it comes against an FCS opponent. On top of that, the Cyclones defense provided most of the offense in the 'Clones 27-0 win over UNI.
Iowa State's offense is another story. It's very disconcerting ISU isn't putting more points on the board. With Tom Herman's track record and all the experience returning, the offense should be further along, and Austen Arnaud re-injuring his arm won't help the situation.
I love listening to the pre-game and post-game call in shows for both Iowa and Iowa State. Jim Zabel, Jon Miller and Chris Williams provide great analysis. And even though I'm not a big fan of WHO Radio's programming, I love the new Ronald Reagan promos that the station is airing. Good stuff.
Shawn
P.S. Formatting issues with the blog… sorry about the lack of paragraph seperation.