This is an archived article and the information in the article may be outdated. Please look at the time stamp on the story to see when it was last updated.
Good Morning!
The computer shutdown is in day five. Blue screen of death continues to hold my computer hostage at the desk. Jeriann says she saw our engineers working on it so I am assuming the problems are significant…That also means I have two copilots for my blogging again this morning.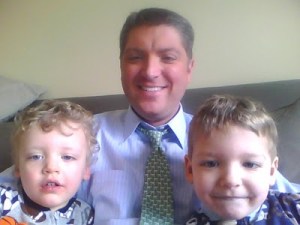 Shutdown
On to the actual looming shutdown of the Federal Government. The two sides met again last night late at the White House. All three sides of this say they are close in principal…they just can't agree on how much to cut. There was an interesting article about whether the Republican party and particularly the Tea Party was overplaying it's hand here. i think the answer is approaching yes. Cutting spending is the goal of Tea Party Repubs…They're doing that. They can keep doing it in next year's budget.
Trump Round the Bend
Like one of his reality shows, I got sucked in for like thirty seconds…but I've shaken off the mind numbing haze and realize, Donald Trump is round the bend.
He went on the Today show this morning claiming there's a "real possibility" The President wasn't born in The United States.
I've said before, the scale of the conspiracy he's talking about is massive. There's ZERO possibility the chain of people who would have had to fake a document or keep that secret wouldn't have talked. Try to keep a secret in your office, in your Church community…whatever. Anyone who's tried knows it doesn't work…especially today. Anyone who tries to forward the idea that The President's birth certificate isn't real…is either trying to sell you something or is playing off of base fears to forward their own agenda.
Speaking of I got another email from The Family Leader this morning. It said they had more interest in their statewide tour than they could have hoped for. They say…because of that success…they need you to donate more money to them. Now I'm no math major but if you had more people who were passionate about your cause walk into your statewide series of events, wouldn't you have more immediate donors already? I just don't think it's coincidence that they ask for money in EVERY email.
Pay Up
Brooke and I were talking about the Indigent Lawyer fund this morning. The Legislature agreed to fund the 13 million we owe these lawyers and I think that's the right thing to do. The Governor disagrees with the way they took the money from another budget line. He's trying to get the State's books back in shape. This is what he ran on. After 12 years of budgeting with smoke and mirrors, he's trying to make sure the state has the money to pay the things it wants and needs. I agree withThe Governor's approach. Blaming the Governor for this one is like blaming the plumber who comes to fix a jerry-rigged system and not the guy who put it in incorrectly in the first place.
Once in a Lifetime
The group of Cancer survivors who are headed to Mt Everest to hike to base camp got us thinking and sparked out Facebook Question. Where would you go for your once in a lifetime trip. not a vacation you could take anytime, but once in a lifetime.
Jeriann says she wants to see U2 in Ireland, Brooke says she would tour the Holy Land, Brad said he would follow Marco Polo's Route, I said I would like to Start at Normandy and visit significant places Americans fought in WWII.
Where would you go? I thought you had some good answers so far!
I hope you have a good time dreaming about your once in a lifetime trip…and then come up with a way to make it happen…
PWD
P.S. Thanks to all of you who sent your impressions of the blog and how you use the content here. Anyone else who wants to add thoughts I would appreciate them (patrick.dix@who13.com).
I am sitting on a panel that's going to discuss Social Media, Blogs and other alternate ways we are connecting with our audience in a week or two.
I would love to hear the thoughts of the people who use this blog daily. What do you look for here?