This is an archived article and the information in the article may be outdated. Please look at the time stamp on the story to see when it was last updated.
Good Morning …
Who's not happy to see the weekend?
I'm happy to see the teleprompter working again…Our camera operator for the day, Mike (Angry Intern)…decided to try to "fix" the teleprompter. The red light that tells me the camera is on was broken (it actually came on after about a three second delay). Well, Mike's "fix" actually caused the picture on the actual teleprompter to start flashing. Try reading something that's flashing about 30 times a minute…
He got it fixed before I had to read anything…but it added some excitement to my Friday morning.
Recession?
We had a question come up about the definition of a recession today during the show. We haven't met "the definition" (newspaper definition) just yet but the signs are pointing to meeting that criterion by the end of this year. Retail sales figures for October should be out this morning. We'll update you at Noon. There will also be a bunch of retailers telling us how they did during the third quarter. I expect the news won;t be good. I think I've asked this before but how much are you guys pulling back with your spending?
Kids and Stress
A new study showed us if you put a bunch of kids in a room together…the adults aren't the only ones who feel the stress. In preschool classrooms where there are ten or fewer children, the kids have lower levels of stress hormone. In classes of 20 or more, the stress level is higher. I'd say it's more a study about class sizes than it is about kids and stress.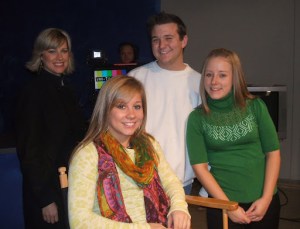 Shawn
Everyone's talking around the newsroom about our morning visitor. Shawn Johnson's supposed to be here today to do another interview with Keith. She's in town with the Tour of Gymnastics Superstars at the Wells Fargo Arena tonight. It sounds like it's a pretty grueling schedule to keep.
Thanksgiving
Anyone cutting back on what they make this year? We're trying to save but we're doing it by asking the people who will be visiting to contribute to the meal or the weekend's festivities in some way. They're happy to do it and it ensures no one is stuck for the entire bill. Today's poll question comes from that subject. How much will you be spending on Thanksgiving?
Everyone's Healthy
I'll use this as an excuse to update everyone on Jeriann and Sally and Megan Reuther.
We had an appointment to see the doctor yesterday and everything looks good with both babies. They're measuring and weighing in at the right numbers, as is Sally. Jeriann asked that I let people know she's due mid-February. She's had several emails asking about it…even a few people betting on it. The girls visited Megan Reuther last week and report she's doing really well with her new arrival. She's a heck of a Mom and doing a great job balancing it all. We'll be glad to get her back mid December.
I'm headed to the MIZZOU Iowa State Game Saturday. I'm trying to find all my Polar Exploration gear for the trip. A friend from college is coming in from Detroit to see the game. We had high hopes this would cap off a National Championship season for MIZZOU at the beginning of the year. Now we're just going to go out there and freeze our tails off for an Alamo Bowl birth. I suppose the Tigers could still see a BCS game with a HUGE upset in the Big 12 Championship, but if I say that out loud people usually ask me if my brain is already frozen.
Anyway if any of you Cyclone fans see us walking around before the game feel free to say hi.
Hope you all have a good weekend.
PWD