This is an archived article and the information in the article may be outdated. Please look at the time stamp on the story to see when it was last updated.
Good Morning,
The talk on the set this morning seemed to be over Jeriann's forecast. For those of you who will never get a chance to be here with us in the morning…she's just as intense when the camera is off as she is when it's on.
This morning that takes the form of hand wringing and gnashing of teeth over the storm that's headed our way. She was really concerned with communicating just the right combination of concern over possible weather conditions with caution that the system could change track and change the kind of precipitation we see.
This is why I'll take Jeriann as my morning meteorologist any day of the week. She's over in the weather center constantly moving around from computer to computer, checking models, new temperature information, looking for ways to communicate some big themes of the morning's forecast.
Jeriann put the target from 6am Saturday to 6pm Sunday. Because we're in that transition time of year where we could see rain or snow or ice…this one is going to be a tough call. It looks like the freezing line is cutting right across Iowa. As she always tells us: this could change significantly if that weather system shifts even 20-30 miles north or south. Bottom line: stay tuned!
Republicans Sparring: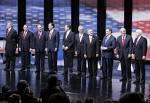 What a debate last night in Florida. I only saw the highlights this morning but what a set of highlights! We watched the commentary by Tim Russert this morning as the Today show started. He agrees, former Arkansas Governor Mike Huckabee is going to be a force in the last five weeks before caucuses. Huckabee had another good performance last night.
Silver Star
They don't just hand these out to anybody. An Iowan is one of the latest recipients. I will look forward to hearing more of the story in the commendation. It is another reminder of why Iowans are some of the people the Army really likes to have on the front lines. Words like duty, loyalty and sacrifice are just embedded in the genetic code around here. It's one more thing Iowans can be proud of.
NFL Network


Find a friend with a dish today. the NFL network is staring to carry the Thursday night game and if you live here in Central Iowa and have cable…you can't get it. I feel like I've heard this story before. ….Sorry Packer and Cowboy fans. It's only one of the best games of the years so far. I'm sure no one will notice.
Fight Night

We had some fun with the fights out at Prairie Meadows tonight. When we announced the names of the fighters, Ronald "The Motor City Cobra" vs James Buggs…our quick trigger audio operator turned on the ring announcer voice effect. Loved it. I think that ring announcer or arena announcer would be a fun job. I told the girls they need to come up with their Boxer names. I am cringing as I suggest this but…any suggestions from the blogosphere? Be nice! By the way the fights start at seven.
Book Worms
Some local authors have taken on the challenge of writing 25-thousand words in the month of November. Writers have apparently been meeting in small groups for inspiration. For those of you keeping score at home 25,000 words comes out to about 125 pages. I've always wanted to write a book. I lean toward history. I'm really finding that I'm enjoying these historical fict

ion writers. If you've never read one it takes characters and places them into real historical situations. The story is not all accurate history but it's sometimes a more interesting way to think about it. We just finished an audio book by a guy named Max Allen Collins called The Pearl Harbor Murders. Great book! It details the two days before Dec 7th and why a Japanese American girl was murdered. We've read some of his other stuff…The Titanic Murders, and The Hindenburg Murders. Sensing a theme here?
By the way, Max Allen Collins is from Muscatine. He also wrote Road to Perdition which was later turned into a movie starring Tom Hanks. Nice guy. He was promoting the movie Road to Perdition at the Fluer several years ago when I was reporting on the weekends. He told me back then that he was begining to produce films at his studio in Muscatine. Another great author with and Iowa connection whose books I think some of you might enjoy is Jane Smiley. She wrote A Thousand Acres. It won the Pulitzer Prize. She taught at Iowa State University in the '80's and '90's.
BB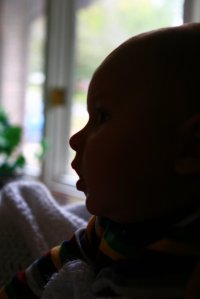 Had to show off my nephew, Max and Evan. My sister just gave me these pictures and I have to say, she is an amazing photographer.