This is an archived article and the information in the article may be outdated. Please look at the time stamp on the story to see when it was last updated.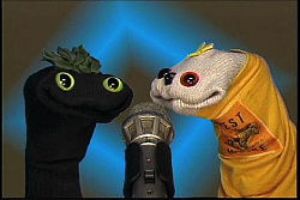 Sifl & Olly inexplicably went off
the air in 1999.
(Chris)
The majority of today's Murph N Andy show was about puppet fetishes. It may have been the most enjoyable discussion I've ever had, hosting the show. It took me back to the days of the Sifl & Olly show, on MTV.
Two lockouts in one year? If we don't have an NFL season, or an NBA season, I'm becoming a soccer fan.
I'm sure steroids weren't
the only illegal drugs
Sheen was taking on set.
Charlie Sheen says he was on steroids when filming the movie, "Major League". Why?! The dude wore long sleeves in every pitching scene.
Jeff Peterson decided not to come back to Iowa. Big surprise. He chose Florida State as his final college destination. Sun is much better than snow…and FSU is much better than Iowa.
I'm excited to see how ISU's new scoreboard will impact the gameday experience. The $5-million videoboard is now the 16th largest of it's kind in college football. It's also a lot bigger than Iowa's board. I just hope they decide to use at least half of the board for video, unlike Iowa. There are more ads on Iowa's videoboard, than actual video. We don't need a bunch of dumb stats, either. I want to see video!
Also being replaced is the Jack Trice sound system, which was the worst of any BCS stadium I've been to. Hopefully they'll have speakers on both sides of the field.
Eventually, the video board will look like this — but I'm not
sure they'll ever be able to hold Texas Tech to -45 points.
The only thing that could stop the I-Cubs, was an off-day. Iowa puts its 7-game win-streak on the line, Thursday night. It's going to be a hot one, but I won't be complaining. I've spent too many 40 and 50-degree nights at Principal Park.
As many of you know, Keith has been in Florida as his Mom was about to undergo surgery for liver cancer. I'm very happy to say that his mother made it through surgery, just fine, and the doctor said it went as smoothly as possible. That's great news. Hopefully Keith will be back, on time. He's supposed to come home Saturday night.