This is an archived article and the information in the article may be outdated. Please look at the time stamp on the story to see when it was last updated.
Good Morning
Back from Chicago, I was glad to see the weather had improved a great deal in Iowa while we were gone! Funny, story, I posted on the blog late Friday afternoon while I was sitting in a Panera in Chicago. About two minutes after I posted, my phone rings and it's my Dad. "So are you still sitting in Panera?"…

Ahhh technology
To the news where we began with a very sad story to start the week.
Federal Investigators identified weather as a possible contributing factor of a plane crash in Missouri that killed an Iowa family. Randy, Amy Weber and their son Tyler all died in a plane crash south and west of St. Louis. Authorities say Randy radioed in just after takeoff to say they were in a heavy headwind and that visibility was down to zero.
The Nor'easter hitting the east coast this morning is a nasty one and the timing couldn't be worse. The rain is causing flooding along the coast. Tornadoes ripped through parts of the south and Midwest over the weekend, and it looks like they could be getting one to two feet of snow in upstate New York and the mountains of New England.
The bad timing comes in today for anyone who thought it might be fun to run the Boston Marathon. A 20mph headwind is expected for the runners as the head up the famed "heartbreak hill". It's supposed to be the big hill right before the finish. I heard them talking on the radio this morning about how this will possibly be the worst conditions they've had in the history of the race.
Speaking of the weather out east, Mr Masters… Zach Johnson will finish up play at the Verizon Heritage Tournament today. Windy conditions shut down the final round of the tournament Sunday. They'll try again today. Zach Johnson is four off the lead by the way.
It would be tax day today, but this year it was pushed back another day by Emancipation day. It's a Federal Holiday that only Washington DC observes. The bottom line is tomorrow night before 11:59, you have to have your Federal Taxes in. April 30th is the Iowa income tax deadline.
Today's news included a mention of new research that says race can factor into risk of getting a more aggressive form of cancer. The most interesting part of the research says African American Women are more susceptible to an aggressive form of Breast Cancer. It was one of MSNBC's top stories this morning.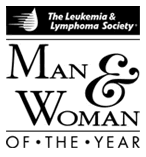 It's also a reminder that I'm continuing my campaign for the Leukemia/Lymphoma Foundation. You can make donations right online using this link.
9:50 am-I just got an email from my buddy Tim Payne out in Boston. He Sent me this note about another great fundraising effort out there for Blood related Cancers. I share it with you to make the point…You never know what you can do until you try.
I've been passing along a story to people when cancer comes up just because this particular form does not receive the attention that other forms do and it mainly strikes small kids. You might recall at my bachelor party there was a big red headed guy that played golf with us named Pat Lacey. He and his wife have a two year old little boy named Will who has a form of cancer called neuroblastoma. Pat has maintained a blog chronicling there heart wrenching journey over the last couple years. Will's disease is stable right now but he has been deemed incurable by the cancer team at Children's Hospital in Boston. Since that point they started working with other children's hospitals around the country to find alternative therapies. The blog is really amazing. It's depressing as hell in some ways but the way this little boy has continued to fight is remarkable. If you have some time give it a read. There is an archive section so you can go back through it. You mentioned the Boston Marathon this morning, there is a guy Pat and I used to work with that decided to run to raise money for neuroblastoma research in honor of Will. He raised over 60k and is out there running today!

READ MORE AT:http://www.willlacy.blogspot.com
Thanks TP-Amazing story!
As I said I made it home this weekend to see my Mom's public presentation of her Doctoral research. It was really interesting. It's a little complicated to get into in this short a period of time, but she says she's going to write a book that will springboard off of the research she did.
I
also got a chance to see my folks new place Saturday night. Their new condo is on the 20th floor of a new building in downtown Evanston Illinois. I snapped a few pics so you could see the view. Even with a bad camera phone, I think you can tell it will be a cool place to hang out. The Lake is off in the distance in the pictures and the area off to the left side is Northwestern University.
A couple of people asked if I'd be sad to see my parents sell off the only house Ive ever known in Chicago. I won't. My folks renovated their house a few years ago and it's never looked or felt the same to me. It was right after I got out of College. The changes really improved the home, but it was a nice way to transition away from the old house.
This is the right move for my folks. They're downsizing in a big way. It's hard to wrap my brain around all of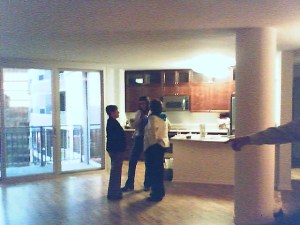 their stuff in this small place, but it's easy to see why they love it so much. The views of the Lake, and the Campus are phenomenal and Downtown Evanston is booming! The restaurants shops etc make this a great place for urban living. Incidentally, for those of you who remember him, Eric Anderson was the City Manager in Evanston before he came to Des Moines. He's credited with helping the redevelopment of that downtown while he was in Evanston.
So…a good weekend in Chicago
Finally, I finished a better than average book I think I've told you about before. The Few is a good read if you're into WW2 History.
Have a great Monday!
PWD
Hey – it's Trisha with just a couple of things to add. It sure feels like a Monday – I think I got about 3 hours of sleep last night!
Doesn't Pat's parents' place look cool?

BETTER STATE OF MIND
We had a really interesting guest on this morning, who's in town to do "State of Mind" training mainly for employees of Iowa Health. Their ideas were really interesting – teaching people how to control their state of mind and make themselves happier and more productive.
The website is here if you want to check it out. They do lots of corporate training.

One thing our guest, Kristen, said that stuck with me – we need to SLOW DOWN our minds and thought process a bit to get more clarity. That takes effort in a fast-paced work environment like mine.
She also says in an emergency situation many of us find that our minds function incredibly well – it's later that we second-guess and doubt and overanalyze.
Have any of you had shocking moments of calm and clarity in a crisis? I know I have.


Took the kids to opening day for the season at Snookies Ice Cream Shop Saturday. It was a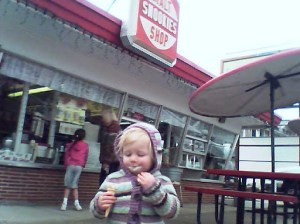 little bit chilly, but totally worth it. YUM.



Last night some of our neighbors got us all together for a barbecue – a gorgeous night! Here's our good friend and neighbor Josh with his mini-me – newborn son Liam. We are SO lucky to have awesome neighbors. Josh and his wife Emily seem to know everyone in town, so we feel well-connected to be friends with them!

The fashion show for Junior League went pretty well.
A photographer from Juice was there taking tons of photos, and I offered to pay him off NOT to publish any photos in case I tripped! Luckily I made it down the runway safely, as did all the other volunteer models!

I'm having trouble posting the one and only photo I have, so maybe I can get it from home later, but it's not what you'd call a teriffic shot. My friend Mary had the camera, and couldn't get the timing right since the camera has a second or two delay! The only shot of me is my back when I spun around- but at least it proves I did it! Stacy Horst from KCCI also modeled, and Lisa Carponelli from Channel 5 was the emcee – it was nice to have all 3 stations represented!

I'm hoping to get the whole family out for a picnic lunch today – I LOVE Jeriann's forecast!
Have a great Monday, everyone!
Trisha