This is an archived article and the information in the article may be outdated. Please look at the time stamp on the story to see when it was last updated.
Good Morning,
It was a complete role reversal this morning among
Jeriann
, our Producer Heather and I. Usually I'm the one screaming about not running stupid
Brintney
Spears Stories. I don't care about her latest stunt. A little later we'll get into why I was actually arguing we SHOULD use the video of Britney at the MTV Music Awards last night.
First to the news: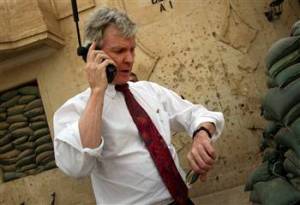 The top general in Iraq, General David
Patraeus
, will make his report to congress about the troop surge and the future of US military involvement in Iraq today. Actually it's day one of two that the General will be testifying before congressional committees.
We know a little about what he's going to say already…progress in some places…stalled politically. What may be more interesting,
argues the Washington Post this morning
, is the testimony of US Ambassador to Iraq Ryan
Crocker
.
I also thought it was interesting that
a new poll
showed voters don't trust the president or congress to get out of the mess in Iraq in any kind of organized or honorable way. They do trust the military leaders to do the job.
Olson at Council
West Des
Moines
City Councilman Brad Olson will be the topic of conversation at the Council's regular meeting. Apparently he hasn't been living in the address he gave the city. That address would be in his district. If he's not living in his district, he can't represent the district. We'll see what the councilman has to say.
I seem to remember another local politician who had the same problem. In that case…no one seemed to care that he wasn't actually living in the district he represented. I'm not saying Olson should be allowed to live outside his district…it's just funny how we apply rules to people differently.
The Democrats running for their party's nomination all debated for the first time in Spanish last night. Bill Richardson complained he couldn't actually give his answers in Spanish:
Richardson, one of two candidate who speak fluent Spanish, objected to the debate rules that required all candidates to answer in English. The rule was designed to make sure that no candidate had an advantage in appealing to the Spanish-speaking audience.
"I'm disappointed today that 43 million Latinos in this country, for them not to hear one of their own speak Spanish, is unfortunate," said Richardson, the governor of New Mexico. "In other words,

Univision

is promoting English-only in this debate."
I agree with Richardson, this was stupid. I'm sure in some political war room somewhere there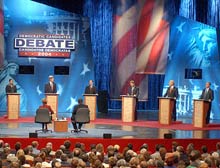 was a great debate over this format. I'm sure all the candidates had to agree they'd only give answers in English so as not to show up other candidates. Here's a clue…if your candidate doesn't speak Spanish and you want them to answer in Spanish…let them learn.
Richardson and the others who CAN speak Spanish shouldn't be penalized for knowing how to speak the language.
Do the other candidates think it won't come out that Richardson is fluent? It's just another example of how these campaigns look at pretty mundane things as the MOST IMPORTANT DECISION THEY"LL MAKE!!!!!
Britney Bombs
Brit didn't exactly make the comeback I think her management team was hoping for at the MTV awards last night. If you missed it here's the
underwhelming video
.
Now, I'm not usually for putting a train wreck like this on the news. What's the relevance? I did

however, argue for it this morning. I just feel like there are going to be a lot of people talking about this
uber
-weird performance. Kind of like the Ashlee Simpson thing on Sat Night Live.
You may be talking even more about the way MTV itself has strayed from anything close to it's original mission of…you know, playing videos. So anyway, we used a little of this video.
Jeriann
was arguing for using it all morning, not having seen what Ms. Spears was wearing. Once we showed it her eyes got as big as saucers and I think her first comment was…"Get the kids away from the TV."
I'd say she's right except The Today Show used the same video in their opening segment.
In any case, if Britney wasn't done before, please!, please! Oh Lord, let this be the last time I have to talk about her. I'm guessing that's a prayer that won't be answered.
Merge People!
My wife called bemoaning the driving skills of certain Central Iowans. I have wanted an excuse to blog about this for a while.
The bottom line is this…if you drive at 39mph on 235 while you try to merge…you're going to cause an accident. I see people do it all day. I didn't learn to drive in Iowa and I haven't seen the drivers ed book but are people here taught to slow down at the end of the off ramp?
It's amazing! Speed up to the speed of traffic…it's easier to merge with people when you're going with the flow of traffic.
If you think people on 235 are going to fast or it's too scary for you to merge, I have a friendly suggestion. Use the side streets. The difference in the time it'll take you to get wherever you're going isn't that big, and clearly…time isn't that big of a factor for you! But please, until you learn how you merge, don't stop in front of someone.
I'm only half joking here.
Someone's
going to get killed.
Sally's call had a different flavor to it. She was behind someone on 235 going 39 miles an hour. There was no one in front of the car she was trailing….this person just thought it was the safe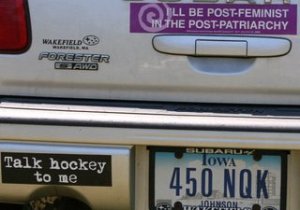 thing to do.
The car had a bumper sticker on it for a certain Democrat running for President. I theorized to Sally that the driver was, in fact, so scared of the right, that it was even preventing her from finding the value in using the pedal on the right hand side of her car. Do Democrats drive slower than Republicans?
It also brought up an often debated point in our road trips to Chicago…why put a bumper sticker on your car at all?
Anyone have any bumper stickers?
What does it say about someone that they need to let the world know about your their stance on something while we're all driving?
I don't know you…I might misinterpret your particular bumper sticker to mean something it doesn't. I'll be interested to read your responses as always.
In any case…the accelerator is the first pedal on the right. Use it if you're going to be on a road where the speed limit is 55!
Have a good Monday