This is an archived article and the information in the article may be outdated. Please look at the time stamp on the story to see when it was last updated.
Good morning and my apologies.  Good intentions to get a blog done did not translate into actual blogging.  Like many of you, I'm sure, you start the day with what looks like a reasonable to-do list.  Then life gets in the way.  So anyway here's a little catching up and a little bit about the news of the day.
Semantics
So if I were a State Senator accused of taking money when I shouldn't have…I am not sure I would be saying I didn't do anything wrong…I would be saying, I didn't take ANY MONEY, here are my checking statements, here are all of the accounts I hold and that my family holds…I didn't take any money. I didn't take any money… Oh and did I mention  I DIDN"T TAKE ANY MONEY!
Coming Out
Like a lot of people I understand the significance of NBA player Jason Collins' decision to come out as being gay.  That said, I am underwhelmed…I don't think it's a big deal that this guy is gay, at all.  He is a basketball player that can play at the highest level…that's the only thing that should matter.  As far as comments from some analysts that he "can't be a Christian" if he's gay.  Who's going to stop him?  I'm really curious.  Is he not allowed to love his neighbor?  Should he check with a "real" Christian before he feeds the hungry, clothes the naked?  If he has a personal relationship with Jesus are you really the person to say that's wrong?
I'm aware of the arguments people are using to make their case…I'm not being dense…I just wonder when people are going to stop worrying so much about what they perceive as other people's sins and start concentrating on living the best life they can.
I also heard a debate over the Boy Scout's newly proposed policy of letting openly gay members in but not gay leaders.  The guy behind an organization of local scout leaders says it's against the scout oath for someone to be gay because it says:
On my honor I will do my best
To do my duty to God and my country
and to obey the Scout Law;
To help other people at all times;
To keep myself physically strong,
mentally awake, and morally straight.
So I guess the morally straight part is the argument against having gay leaders or members?  So again, question.  Boy Scouting is worldwide.  So are all of the other Scouts in the world immoral?  Not all of them believe in the same God, or any God at all.  So why can't someone who is gay be physically strong, mentally awake and morally straight?  The last is subjective.  What I consider "moral" behavior might make someone else blush…or roll their eyes.  The point is, this has nothing to do with Scouting principles.  Whether it's fear of the unknown, or ignorance or intolerance… the people complaining about including gay people are the people who are not upholding the proud tradition of scouting.
Weekend Recap
We had a great time with the boys this weekend.  On Friday the three of us went out to one of the Big Box Home Improvement Stores looking for a raised garden box.   I knew they had them because I'd looked online.  When we arrived I asked where they were.  The kid in the Garden center looked at me like I had two heads and said, "I don't think we carry anything like that".  Really?  In the Garden center?  You don't carry anything like that? Undeterred, I went looking for a manager.  He found the boxes right next to where the first kid was standing.  I don't mind if someone says…"Well, I don't know but I will find them for you"  This kid just didn't want to go looking…or it didn't occur to him.  I sent a quick tweet about it and included a mention of the Store's national account.  They replied within minutes and asked what happened.  I got an email from the store manager quickly after that.  The response alone is enough for me to keep shopping there.  I don't mind mistakes or lapses in customer service…the real test of a company is how they deal with a bad situation.
We built the garden box Friday.  If I can do it…anyone can.  Here are the boys in front of their new plot of earth.
Saturday morning Sally was going out with her Mom so the boys and I went out to the park in the morning and we hit the driving range in the afternoon.
I mowed the lawn while Sally and the boys planted our garden.  Then Will helped me clean off the grill and we fired it up for the first time this year.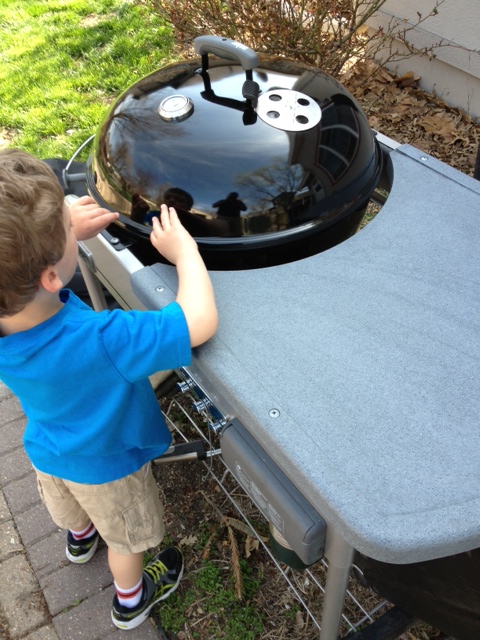 I recount the day because the boys have stopped taking a nap. The timing is great because we can go outside and do things…they're so tired by the end of the day that they hit the pillow and fall right asleep.
Top of the Morning
As I am trying to fall asleep these days, I am not doing myself any favors reading the new book, Top of the Morning.  It's about Morning Network TV.  Who knows if it's true or not but I am really enjoying some of the behind the scenes stories.  If you are a Today Show fan…pick it up.
I hope you all have a great day!
PWD