This is an archived article and the information in the article may be outdated. Please look at the time stamp on the story to see when it was last updated.
Good morning everyone. Hopefully you are not waking up too cranky after a night of heavy rain, thunder and wind. I didn't hear a thing after I went to bed, but I am a very heavy sleeper so that isn't unusual. I think a tree could crash through our bedroom and I would still be sawing logs. Although I have noticed that any small noise from the baby monitor does wake me up… but that's another story for another time. I am sure there are other mothers who can relate.
It was all about the weather again today. Jeriann says tomorrow could be the most serious day so far this week. We had a lot of rain overnight and the Raccoon, Des Moines and Skunk rivers are all ready to spill out. Tomorrow the big story will definitely be flooding. And now Jeriann says the weekend will not be dry like we first thought.
Greg Edwards from the Greater Des Moines Visitor and Conventions was on the show this morning talking about all the events going on this weekend and all of them are outside. I guess you have to just suck it up, put on a rain jacket and try to make the best of it. The Pork Expo, Wine Fest, Antique Jamboree and Greek Food Fair are just a few of the events happening this weeke

nd. By the way, we had some organizers of the Greek Food Fair on the show yesterday and they brought baklava. I love to bake and have a serious sweet tooth, but this was the first time I have tried this Greek staple. Oh my goodness. Have you ever had it? It is to die for. That alone is reason to go to the Fair this on Saturday or Sunday.
To the news…
Will it ever end?
The rivers are spilling in over this morning in lots of areas but one town in particular where we are seeing a lot of water is Peru in Madison County. Chopper 13 was over the town this morning and there are houses and fields flooded. Photojournalist Roger Riley even got video of some horses and cows in a farm field that were at least in three feet of water. From our view, you could see the owner out there trying to feed the animals from buckets since they couldn't move to the trofts. This is bad and I when you keep hearing farmers say things like, "it hasn't been this bad since 1993" it tends to make you a little nervous.
Hillary Clinton
(no… this isn't Hillary… read on)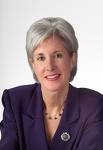 She says she will officially drop out on Saturday and endorse Barack Obama. People who talk politics for a living on television say she is on Obama's short list of VP candidates. There is also word that two other women, the governors of Kansas and Arizona are also potential running mates. Having worked in Kansas for a couple of years in the late '90's… I feel like I have a bit of a connection to Kathleen Sebelius, the governor of Kansas. When I started working at WIBW-TV, the CBS in Topeka, Kathleen was the Insurance Commissioner of Kansas and came on the noon show (which I anchored) each week to talk about insurance advocacy issues. She was such a classy, smart and truly nice woman and I knew back then she would have a bright future in politics. It has been fun to watch her move on to the governor of Kansas and become a star of the Democratic Party on a national level. The fact that she was able to win (by a lot) the office of governor as a Democrat in one of the most conservative states in the country says a lot about this woman. People really like her and I can see her as Vice President.
I promised you these pictures on Tuesday and never delivered. Sorry. I am going to blame it on my computer at home. Anyway, these are a few shots of NY that I thought you would enjoy. (Thanks Tiffany Tauscheck!!) I just realized that most of them are of us eating. I guess that's what we did for most of the vacation so it is only appropriate. The one of Tiffany Tauscheck, Rebecca Templeton and myself show us with our new purchase in China Town. We got a great deal on "almost-Tiffany" bracelets. The sandwiches are from Carnegie Deli. Mark and I ordered the Woody Allen.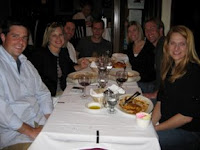 Have a great day and enjoy the sunshine while it lasts. Pat is back tomorrow.
Brooke