This is an archived article and the information in the article may be outdated. Please look at the time stamp on the story to see when it was last updated.
Good Memorial Day Monday.
No lectures, except to say this. I hope everyone takes some time today to remember the Men and Women who serve, and who served out country. Even in the most challenging of times, their sacrifice allows us the luxury of freedom.
Parkersburg
Join us tonight for more coverage of the 1st anniversary of the Parkersburg tornado. Sonya has done a great job with her stories. The people who live in Parkersburg have overcome so much this year. I can't imagine the emotions today.
N Korea
Anyone else want to hide under the bed?
PCC
The answer is yes…I love to have professional golf in Des Moines. And yes, we'll be talking more about the Principal Charity Classic this week…Sorry.
Glee
Has anyone else seen the pilot of the new Fox show Glee? I can't wait for the show to start this fall. Anyone who was around any kind of performing arts in High School will relate. On top of that…it's hilarious! Go to Hulu.com to see the entire pilot episode.
Weekend
My sister Katie was in town and boy was it nice to have an extra pair of hands. We're getting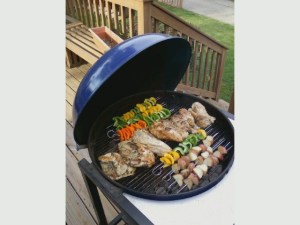 better at accepting help when it's offered with the boys. In return We grilled for Auntie Kiki last night…the picture here is the grill all filled with chicken, grilled potatoes, and peppers.
Have a good one
PWD