This is an archived article and the information in the article may be outdated. Please look at the time stamp on the story to see when it was last updated.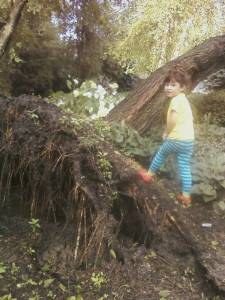 Good Morning!
(
this will be a combo Thursday/Friday blog. i wrote part of the blog yesterday but didn't end up posting it)
As always we're so happy to have Brooke back. She had a nice few days off and took a bit of a vacation with the family. She says it didn't start off so well. She says she woke up Monday morning (after that big wind storm) and found a tree on her deck. They'd planned on going over to the Omaha area but had to delay while crews cut up the tree. She told us Evan probably had the most fun watching the tree crew cut the tree up.
Melting
So we had quite a debate Thursday about the weather rating. Jeriann gave it a six. The creator of the scale says five…Brad Ehrlich says ZERO! Brooke agrees with Brad, I'm with Jeriann. It's Summer in Iowa people. If you are going to be outside, drink plenty of water, use sunscreen, take breaks and find some shade if you can. Friday looks bad too. There are cooling centers set up by the Salvation Army at two of their Corps sites in Des Moies.
We went to the pool Thursday and boy did it feel good. Kids are amazing. They seem to be able to stand the heat a lot better than we can. The pool was packed with kids and parents all looking for a little break.

Meeting
So I went to a Polk County Supervisors Meeting Wednesday morning…just for the heck of it…that's the special kind of geek I am.
The meeting was about a new program for Iowans who can't afford medical Care. Right now many of those Iowans are sent to Iowa City for their primary and secondary care. That's a problem if you live in Sioux City. Because of the inconvenience, some of those people choose not to go to their Dr. appointment. In some cases that means their health gets worse and more expensive to treat.
As a solution some of the other safety net hospitals in the state are trying to form a network where Iowans can get treatment closer to home. The patients would be paid for with Federal and State dollars that already exist…
As a side note: this is the basis of part of the system that will be implemented in 2014 under the President's Healthcare Reform Law.
So Broadlawns here in Des Moines is going to be the next hospital that will be a part of this network. The Hospital says it's done expensive research and that the extra patient load will not overburden it's resources, and in fact, that they'll have an extra five million bucks as a result of the federal/state payments they get. What's more, the delivery of services to these Iowans who are already in this program will COST LESS. That means taxpayer money is being used more efficiently.
So that was the explanation…the discussion that followed made my jaw drop.
The Democrats on the Board seemed to be upset about the the program. They raised the legitimate concern that with new patients coming into Broadlawns that Polk County taxpayers might have to wait for service…there could be waiting lists or longer waits in the ER.
Supervisor John Mauro went so far as to say he didn't care if people in Council Bluffs or Madison County had to drive to Iowa City for their care…His responsibility is to the taxpayers of Polk County and he thinks Broadlawns first priority should be as safety net hospital to Polk County.
He's right of course, the hospital's first responsibility is to the people who pay for it…in Polk County.
What astounded me about the Democrat's objections to this program is that it's are the exact arguments Republicans used to argue against the Healthcare Reform in 2009-2010. Long lines, waiting lists.
Take A Bow
As predicted the Theatrical Company with the longest Summer run in the State wrapped up it's engagement yesterday.
The Iowa Legislature took a bow after, predictably, coming up with a deal at the last minute.
Emmy and Oscar Nominations for best dramatic performance will come out later in the Summer.
Shirley Scale
Jeriann wanted to send out an explanation of the Shirley Scale we've been using to rate the weather:
The Captain Shirley Scale helps create a more accurate weather rating number. Each morning we rate the weather on a 1 to 10 scale. 1 means the weather will be bad. 10 means the weather will be nice. We rate the weather using 5 different categories. Each one gets a 0, 1, or 2 rating. The higher the number the better the weather will be.
So for example, this is how we came up with a 5 for today's weather…
Temperature: 0 (10 degrees above average)
Cloud Coverage: 2 (Sunny all day)
Humidity: 0 (it will be off the charts high)
Precipitation: 2 (no rainfall)
Wind: 1 (10-20 MPH today)
0+2+0+2+1=5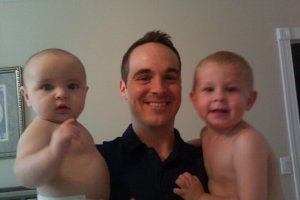 Also JR got a good picture of her boys this last week. This is Luke Rob and Nick.
We hope you have fun with your family and friends. Stay safe and we will see you next week!