This is an archived article and the information in the article may be outdated. Please look at the time stamp on the story to see when it was last updated.
Good Morning…
Things I learned on the Morning show this morning
-Jeriann thinks I can't cook. We'll see what she says after she's had my baby back ribs.
-Neither of the girls have the winning $200,000 lottery ticket sold in Iowa. It was sold in Sioux City.
-And…Apparently I'm tired because I slept right through last night's storms. Anywhere from a half to nearly four inches of rain fell across Central Iowa last night. In fact I had that great moment some of you might relate to in the middle of the night. I woke up from a sound sleep about one in the morning. Usually that's the signal from my brain that I need to get up and go to work. I usually wake up about five minutes before my alarm goes off. In this case, I realized I had another hour to sleep.

To The News:
Katrina Anniversary. It's been two years and all of the network news crews will be back in New Orleans tonight for the anniversary of hurricane Katrina making landfall. So much of the region is still in ruins. We forget, I think that it wasn't just New Orleans destroyed by Katrina.
Developing News
Those Korean hostages in Afghanistan may be released today. By the time we went off the air eight of the 16 South Korean Hostages had been released
Super Tuesday
Does anyone else want
to
hold their Primary on Super Tuesday? If they do I have another name for that day…Election Day! The idea behind the primaries being spread out is that a lot of the different states will get to see the candidates. I don't know what these states expect but what they're going to get is a lot of pre-packaged commericals.
Here's a modest proposal: Instead of trying to front load the process, back load it. Make the states with the biggest number of delegates like Illinois Pennsylvania Florida or California go last. Spread the medium states out so each will get candidates to visit and then have a super Tuesday contest in the biggest states only. That way the nomination can't be decided until you get to the end. I know I know…the argument from the big states is that Iowa and New Hampshire benefit economically from the early status. True, but spread our benefit out over the larger states and it starts to look like peanuts.
Cancer Forums Benefit the Cause
I was at a Leukemia/Lymphoma event last night and heard from more than one person who believes that Lance Armstrong's efforts to put Cancer research at the front of the national priority list is making a difference in fundraising and awareness.
As a side note, had a chance to spend some time with Bill Riley Jr. He's still coming down off of h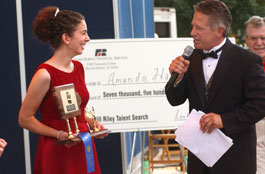 is Corn Dog Withdrawal, having hosted the talent competition at the Fair.
We talked about a lot of things Fair related and not so Fair related and I came away with the inescapable conclusion anyone who's spent anytime with this guy has to come to. Bill is one of the best examples of what people often refer to as a "true Iowan". The apple doesn't fall far from the tree.
Vaughn Rehired
Bill Vaughn is back in the employ of Polk County Iowa. For those of you lamenting this…stop.
He's going to make sure the county gets the best deal it can out of the fiasco that is the new Jail. The sell on this thing was that it was going to save money and maybe even generate enough revenue that it could pay itself off.
The dispute is how to run the Jail. If you add the kind of staff the Sheriff is talking about, some people believe the costs will outweigh any benefit($) brought in by housing federal prisoners. There are others who think the Sheriff's plan will still work, and that there are enough Federal Prisoners to actually make the county some money.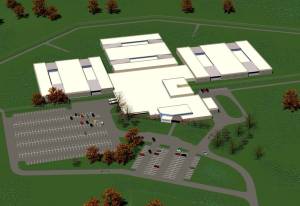 The Supervisors have no control over how the Sheriff spends his budget. The only check on his office is that Supervisors
set
the budget. They've told him to stay within that spending limit. We'll see if Former Chief Deputy Vaughn can act as a bridge between the political and the practical in all of this. If they work out a solution and the County can deliver on it's promise that the Jail won't significantly raise property taxes…It's worth the money they're paying him and then some
Juuuuuunior
That's what one of our photojournalists has been screaming around the newsroom for a couple of days now. Dale Earnhardt Jr is coming to the Iowa Speedway to test today. I would guess by the turn-out in hot humid conditions yesterday that we'll see a good crowd at the Speedway for Junior's drop-in.
Turncoat

For all you Hawkeye fans out there, I'm creeping toward your side.
After eight years of leaning a little toward the Cardinal and gold, My wife is over in Iowa City now for her MBA program.

I always liked Iowa State a little bit. It's an old loyalty to the Big (8)12. I went to Missouri, and I've also always liked the underdog. When we showed up in Iowa…that's what ISU was.
Sally and I were also both brought up on the pummelings that Northwestern used to get in the Big 10. I don't think that had a deciding factor in her staying in Evanston for her her undergraduate degree, but NU's success in the 90's made us Wildcat fans as well. That left Iowa out in the cold a lot of the time.
We'd cheer when Iowa was playing someone we didn't like even more (Michigan) but I've never given my whole heart to the Hawks.
So when Sally brought home an Iowa Sweatshirt and t-shirt over the weekend, I was torn. I've been really impressed so far with the University, the campus and the people we've met in the early days of this program. We'll go to our first Hawkeye game in Kinnick over homecoming weekend. We'll see if I become a full convert.
Hope you have a good day, and enjoy the cooler temperatures.
PWD