This is an archived article and the information in the article may be outdated. Please look at the time stamp on the story to see when it was last updated.
Happy Birthday Jeriann
Good Morning! I can't resist sweets. They are my downfall. So, this morning for Jeriann's birthday I thought I would bring in something that isn't TOO bad for you because I knew I would be eating more than my fair share. I brought in chocolate cake made with pumpkin instead of oil and egg. It's really good and healthy… I'll share the recipe below. But then Jeriann had to bring in treats, too. Ever had scotch-a-roos? OMG! I can't stop picking at them. Apparently Jeriann's husband Rob made them last night after she went to bed and set them out for her as a birthday gift. I am already starting to loosen by waist band. And I
thought
I was going to be good today!
On a side note… Today is a reminder to me that life can change in a short amount of time. Three years ago I traveled to Mexico with Jeriann and our friend Elisha to celebrate Jeriann's birthday. I was just married with no children and Jeriann hadn't even met her husband yet.
Sorta Healthy Chocolate Cake
1 box chocolate cake mix
1 can pumpkin
1 1/3 cups of water
Handful of chocolate chips
Mix everything together by hand and bake in a 9×13 greased pan at 375 degrees for about 1/2 hours or until firm.
———————————————————————————————-
More Prom..
If you really want a good laugh.. check out our 13 Fascinating Facts on the WHO website. In a few days it will include prom pictures from each our reporters and anchors. Apparently John Bachman has even submitted his picture.
Noon Update: Just as a teaser for tomorrow's pics…here's one I dug out of our picture album of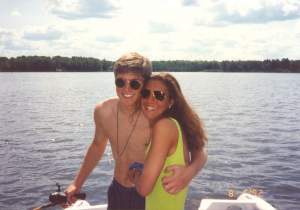 Sally and I right after we graduated from High School.
It may be the last time I didn't worry about having my shirt off in public. We've got our Prom Photo ready for tomorrow. For the record, I'm the one who needs a new haircut, and my wife is the one who hasn't aged a day since we were in High School.
Etc..
The former Governor of Illinois Rod Blagojavich found out he cannot travel to Costa Rica to be in a new NBC reality show called I am a celebrity, now get me out of here. But this morning he said he might still be a part of the show while remaining in the US. He says he needs the show to make money to support his family. You just can't make this up!
Speaking of reality.. Anoop and Lil' Rounds got the ax last night on American Idol. I am sad about Anoop but if Adam Lambert doesn't win… I am done with the show.
Hope you enjoy the sunshine. See you tomorrow!
Brooke