This is an archived article and the information in the article may be outdated. Please look at the time stamp on the story to see when it was last updated.
Good Morning!
Hope you all had a good holiday weekend. It's back to the usual day for me, no more mid-morning golf for a while now that Wimbledon is over.
To the news:
Hit and Run:
A young man visiting Des Moines died this morning in a hit and run accident. It sounds like the driver may have been drinking and ran up on to the sidewalk where the other young man was on a skateboard. The crazy part of this is that they found the 19 year-old still driving later in West Des Moines!
Olympic Trials

Move over Shawn, Lolo's back! Lolo Jones ran away with the women's 110 meter hurdles and won herself a spot on the Olympic team this summer. Jones ran a wind aided 12.29 sec. That's one of the best times ever under any conditions but it can't stand as an American record because of the wind at her back. What's even better than all of this? Lolo is donating the money shew won at the trials last night to flood victims in Iowa. Brooke said it best this morning…Class Act!
Swimming
Dara Torres qualified for two Olympic events at the age of 41! She's got a shot at winning a medal in five Olympics! He's the kind of person you look at and wonder…what have I done today?
Wimbledon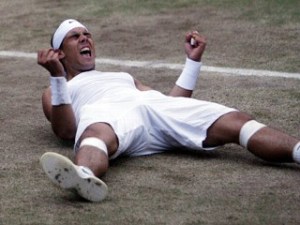 Was this the best Men's Final ever? There are a lot of people who said so after Sunday's match between Roger Federer and Rafael Nedal. I am not a fan of tennis, and I don't ever watch the sport, but I find myself interested in the Wimbledon final every year, fourth of July weekend. I'm glad I did yesterday. I don't think you have to appreciate tennis to know you were watching some incredible athleticism Sunday.
New Words
Every year the folks over at Websters put new words in the Dictionary. The list includes words that have found their way into our vernacular, words coined in coverage of the news and words that come to have a new meaning. Here's a look at the list and some of it's highlights.
Starbucks
Has the Starbuck's lost its luster. This writer in the Chicago Tribune says yes, and his reasons
are pretty solid. The question I've been asking is, will any of our stores shut down here in the metro? You'd think Starbuck's could find enough stores to close in the cities where they dot every corner.
I'll let Brooke add as she likes.
Have a good week,
PWD