This is an archived article and the information in the article may be outdated. Please look at the time stamp on the story to see when it was last updated.
Hello and Happy TUESDAY, everyone!
I am tardy posting again this week…. my motto lately seems to be, "Better late, than never!"
I love Halloween. Michael and I used to throw costume parties but haven't for several years and this year we didn't even dress up! What are some of the best costumes you saw this year? Do you have a memory of a costume you've worn that still ranks as your favorite? I loved the year that we dressed up as Little Red Riding Hood and The Big Bad Wolf, mostly because Michael was in this huge furry outfit that was basically like giant footie pajamas. I think it snowed that year, but he was sweating all night… this probably DOESN'T rank as his favorite costume.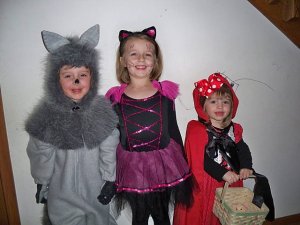 Our nieces and second cousin were decked out on Sunday … how cute are Olivia, Samantha and Ella? They had a ball on Beggar's Night and came home with LOTS of loot.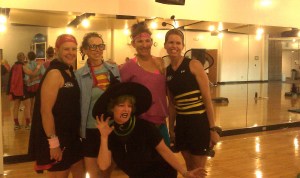 Here's how some of the gals at the Y looked Monday morning. My favorite is Molly – dressed as a 1980s aerobics instructor. I stole the image below from her facebook page so you can get the full effect.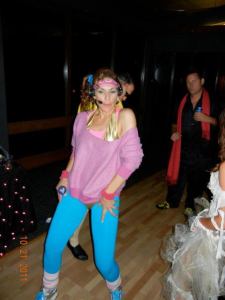 Sonya and I hope you'll tune in tonight at 5 – you'll meet the guys in this picture:


Mario, Nick and John play wheelchair basketball every week thanks to Adaptive Sports Iowa. They invited us to give their sport a try. We were so impressed, we've decided to devote all of our November workouts to people with disabilities. for more information on ASI check out http://iowasportsfoundation.org/Sports/AdaptiveSportsIowa.aspx
Finally, tonight at ten we're bringing you a 13 Cares about a Central Iowa family that's working through grief by helping others. They're doing it with the furry members of the family and I think it's a story every animal lover will appreciate.
Enjoy the rest of your week!
EEK
Erin.Kiernan@who13.com