This is an archived article and the information in the article may be outdated. Please look at the time stamp on the story to see when it was last updated.
Good morning!
We only have time for a very quick blog today – if you missed us talking about it this morning, Pat and I are heading down to Wayne County in Chopper 13 right after the newscast to become CATTLE RANCHERS FOR A DAY! Brad Hook, the Today show's "Anchor for Today" winner, challenged us when he visited a month or so ago – and now we're following through.
Pat and I have jeans on today – and I have a feeling our waterproof boots will come in quite handy. Brad has this kind of evil laugh every time I try to ask him what he plans to have us do on his farm. Should be interesting. Watch for clips of our adventure in the next week, and we're planning to put together a full report for next Wednesday.
Just for the record…and before we hit the farm…I 'm not sure our Urban upbringing disqualifies us for working on a farm. We are relatively smart people, and I think Trish looks like she can throw a bale of hay. If I don't get a chance to drive a tractor…I'm going to be disappointed.
If you're anywhere near CJ's cafe in Corydon around eleven this morning…stop by. We're going to have lunch with Brad.
GOP DEBATE –
The pundits call last night's debate "feisty" – any of you want to share thoughts on your favorite Republican candidates? Who's the best debater? Who are you most curious about?
Talk about risk reward. The good part about trying to throw out a catchy line or a accusation is that you make headlines…but you might make them in a way that makes you look less than Presidential.
For example: Congressman Ron Paul threw up a softball for former New York Mayor Rudy Giuliani. He claimed the US left itself open to the attacks of September Eleventh. Giuliani teed off and whether you agree with him or not…There are only a few people more qualified to talk about Sept 11th than the former Mayor of the City that was attacked. He said, "I don't think I've ever heard that before, and I have heard some pretty absurd explanations."
On the clever side, Rep Tom Tancredo tried to highlight some of the flip-flops the front runner have made on some issues saying, "I trust those conversions when they happen on the road to Damascus and not on the road to Des Moines," …contrasting the biblical with the political.

GAS DONE RISING
Gee I hope so. Energy experts say we may have hit the peak – but don't expect the prices to go down until late June. Ugh. At some point I'm going to have to fill up and I'm not looking forward to it. Maybe I'll hold myself to $50. By the way, that gas out that was supposed to happen yesterday…apparently the organizers don't understand supply and demand. If the people who were going to buy gas just wait until today to do it, the price is going to go up. I would be the Gas companies didn't even feel it yesterday when millions of Americans supposedly decided not to buy gas. Lowering your personal consumption of gas is the way to bring prices down.
LITLE HOUSES, BIG DREAMS
If I get a chance before we jump in Chopper, I'll paste in a pic of my little girl playing in one of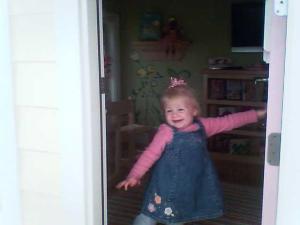 the houses at Jordan Creek Town Center yesterday. She looked like a little doll in a dollhouse…
We were out shooting a promotional spot for the annual fundraiser for Children and Families of Iowa – the Shepherd kids got to join a few other lucky kids to play in the houses on camera! (they're closed off to the public, but the mall opened them up just for this shoot)
Cal and another little boy LOVED the firehouse playhouse – unfortunately they discovered the little fire truck inside REALLY DRIVES – and squirts water. One of our production employees had to disable the engine so they wouldn't go on a joyride during our shoot.
At one point while I was in the middle of reading a line on camera, the boys jumped out of the car and raced into the fire house – yelling that they had a fire to put out. Thank goodness they were there with the WORKING HOSE attached to the toy fire truck. We said "no" when they asked us to refill the tank…I thought it'd be nice to stay dry.
Stinky Guest
Terry Rich from the Blank Park Zoo came in today to help us highlight the Today Show's Gone Wild segments. Terry brought in some Tiger poop. And he said…tiger poop on the air. It was…well interesting. The Zoo has an exhibit coming this summer called, The Scoop on Poop.

Don't Forget!
There's an event at MC Ginsburg Jewelers to help raise money for The Leukemia Lymphoma Society. The chopper is waiting so see yesterday's blog for details.
Have a good day,
PWD