This is an archived article and the information in the article may be outdated. Please look at the time stamp on the story to see when it was last updated.
By Chris Hassel
I'm not a big fan of girls basketball, but today's game between Southeast Polk and Ankeny was a thriller. It doesn't matter if it was a game of darts, these two schools hate losing to each other. I will even go as far as to say that the Ankeny/SEP rivalry is better than Valley/Dowling. This one had the feel of a state championship game, but Ankeny has one more to play. Saturday night's game against #1 Iowa City West will be for the title, but I guarantee it won't reach the level of this afternoon's semifinal.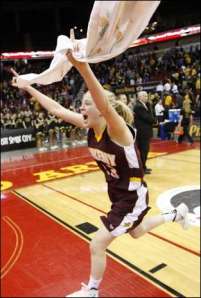 Ankeny advances to 4A title game.
Northern Iowa's showing at the MVC Tournament was horrendous. 42 points?! You can't win many high school games with 42 points. Todd Lickliter would approve.
Drake plays Creighton in another quarterfinal game, tonight at 6:00pm. Rayvonte Rice and Ben Simons need to combine for 50 points for the Bulldogs to have a chance. 
For the first time in over 10 years, Iowa State is favored against a top-10 team. The Cyclones are a 1.5-point favorite over #9 Baylor, tomorrow. I'd be shocked if Iowa State lost. A win would give the 'Clones the 3-seed in the Big 12 Tournament, meaning they would play Thursday night around 8:30 in Kansas City. With a win against Baylor and one victory in the conference tournament the Cyclones should be about a 6-seed in the NCAA Tournament.
How is Northwestern still in bracket 'guru' Joe Lundari's field of 68? The Cats are 17-12 overall and just 7-10 in conference play, with a 2-10 record against the RPI top-50. If Iowa beats NW on Saturday it will be a moot point. There's no way Northwestern could survive a loss to the Hawks.
Someone installed a Mike and Ike's air freshener in the restroom here at work. It smells so good, I'm looking for excuses to go back in.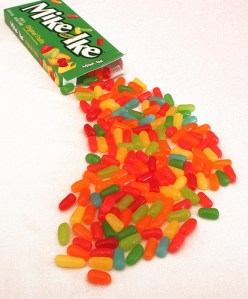 Mmmmmmmmmmmmmmm.
It's official. The MLB Playoffs have expanded for 8 teams to 10. The two wildcard winners in each league will face off in a 1-game playoff before the Division Series. I like it. Not only does it place added significance on winning your division…..but it really creates a great game 7 atmosphere right when the regular season ends. Plus, the Cubs now have a better chance to make the playoffs.