This is an archived article and the information in the article may be outdated. Please look at the time stamp on the story to see when it was last updated.
Good Morning….
I did it again. I overslept.
I don't know how again but I suspect it was the midnight wake up I got from JT. He was standing in his crib screaming. I went into the boys room and sat with him for a few minutes…nothing seemed to be wrong. I suspect he was just testing to see if he could get someone to come get him. Those suspicions were confirmed when he started yelling a few minutes later. We left him this time and after a few screams…he went back to sleep. So did I unfortunately…Brooke woke me with a call and I scrambled to get ready and get into work. it wasn't my best day. Something's got to change…this is happening too often. I don't like where that leaves me.
Fortunately I work with incredible women. They put the show together and had everything ready to go so all I had to do was concentrate on getting here. Thank you Brooke and Jenny!
So I put it to you Bloggers…
What should I do for the girls to make up for the unnecessary pressure I put on them by being late?
Freeze
Our Facebook friends overwhelmingly agree with The President's proposal for a two year pay freeze on all non-military federal employees. My question is…where was this two years ago? I think Federal employees are great people. They serve the country and do jobs that some of us wouldn't want to do.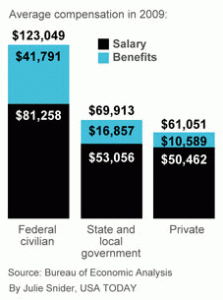 That said…pay for Federal employees has caught up to the private sector…in some cases passed it. I found an article from 2006 that said the Median Non-military, non-postal employee was making a little more than $60,000. By 2009 that number jumped to more than $80,000 according to the Commerce Department. Here's the graph that was published in the USA Today.
Pay Freeze? I think so.
Can I speak to your Supervisor?
So it's a bit of a thing in our family…if you've got a customer service line to call…Have Pat do it. Sally's no allowed to be on the phone with anyone in Customer Service anymore…it frustrates her a little too much.
To me, that's the point. These operations are set up so you become frustrated and just give up and pay for repairs that a warranty should cover. This was the case yesterday.
We've had some problems with the new house. Fortunately, we have a home warranty. I would submit that these policies are set up to make sure they deny any claim…at least at the first level. It's only after you pass the first line of defense and get to a supervisor that you get the customer service you should.
I spoke to a woman yesterday about a complicated claim we're going to make. She got a little bit chippy with me on the phone. I tried to keep my cool but finally asked for a Suervisor. The Sup got on the phone, took care of the problem and it was done in about 30 second.
How much money could companies save…how much loyalty could they build if they were good about taking care of problems right away? Nordstrom is a great example of this.
I hope you all have a great day!
PWD