This is an archived article and the information in the article may be outdated. Please look at the time stamp on the story to see when it was last updated.
(Chris)
It's hard not to think about what Bill Fennelly is going through. The 17-year veteran of Iowa State is now battling cancer. Fennelly underwent surgery, Thursday morning, for a problem with his vocal cords. Doctors found out the problem was an invasive cancerous lesion. The 54-year-old will undergo a 5-week radiation treatment, beginning later in the month — the busiest month of the year for a college basketball coach.
Fennelly prepares for the biggest battle of his life.
The good news is, doctors believe he will make a complete recovery. Fennelly is staying positive. He tweeted this on his @ISUCoachFen twitter account at 9pm, Thursday, "Long/interesting day-hospital at 6am-surgery-bad news-get a game plan-practice-watching baseball to get ready for Cards 2morrow! BEAT BAYLOR." Writing is his only play to communicate for the time-being. He can't talk. All of us at Channel 13 wish coach a speedy recovery.
Royce White was named Big 12 Preseason Newcomer of the Year. Apparently, Iowa State fans aren't the only ones expecting big things out of the 6-8, 270 lb, sophomore.
Bernstine charged with assault
Lincoln tailback, KeeVon Bernstine, has been charged with assault — and the details are disturbing. Bernstine, the younger brother of Iowa's Jordan Bernstine, allegedly got into an altercation with a 20-year-old woman in July, but the charges weren't filed until Thursday. According to the police report, Bernstine allegedly knocked the woman unconscious and kicked her in the head multiple times. Bernstine, who is 17, will be charged as an adult. He told us, this past summer, that he has several offers to big-time schools, including Iowa and Iowa State. No word yet from Bernstine, or Lincoln High School.
Hawkeye Insider, Jon Miller, says that Iowa's game at Penn State is the biggest game of the season for the Hawks. I agree. A win over PSU sets the Hawkeyes up for a 4-0 start in conference play. The next three games are: vs. Northwestern, vs. Indiana, and at Minnesota. Sure Northwestern isn't a sure thing (and Iowa lost at Minnesota last year), but both teams have taken a step back. Indiana and Minnesota might just be the worst two teams in the Big Ten.
A lot of Hawkeye fans, and media members, seem to think Iowa won't have any problems with Penn State. Are they all unaware that the Lions are 4-1, nearly ranked, and favored by 4 points? This isn't Memorial Stadium in Bloomington…this is Happy Valley. It's hard to win in front of 110,000 people. I think Iowa has the better team, but home-field advantage means a lot.
I'm worried Iowa State is going to get destroyed at Baylor. Robert Griffin is the most dangerous quarterback in the entire country. He leads the nation in passer rating, completion percentage, and touchdowns. If the Cyclones want to compete, they're going to have to control the ball, and stop making bone-head mistakes. The Bears are favored by 15-points … I'll take Baylor.
The Yankees are about to go down to the Tigers. I guess money doesn't buy championships — at least not every year.
My sleep schedule is completely messed up. No matter what time I get up (noon, 2pm, 5pm), I can't fall asleep until 6am. That means I'm only sleeping with my wife for about 30 minutes. I blame it on the MLB Playoffs on TBS. The primetime games push the full hour of Seinfeld from 1am, to 4am. Seinfeld and sleep are two of my favorite things in life. I guess Seinfeld is just a little bit more important.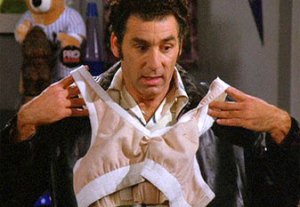 'A bra is for ladies, but a BRO is for men.'