This is an archived article and the information in the article may be outdated. Please look at the time stamp on the story to see when it was last updated.
One of the interesting things about being married to a musician is that occasionally, 6 guys from an out-of-town band crash in your basement.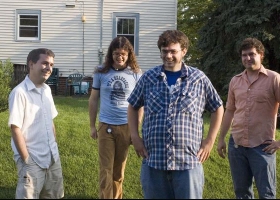 Ian helped hook "Elsinore" up with a gig in Des Moines last night – he's "paying it forward" by giving these young guys a place to sleep other than a stinky band van. ( I found this photo of them on the web)
I had no worries about a house full of loud, partying rock-stars.
It was the SHEPHERD chaos I had to warn them about. From being tackled by kids, to tripping over toys and drumsets, to being awakend by the sound of the hair-dryer and coffee-grinder going at about 3am (right after they all went to bed) ours isn't the quietest place to get a good night's sleep.
They didn't seem to mind. They were all very sweet and I think just grateful to have a real house to stay in. I hear they played well.
Onto some of the news of the day:
FALLEN IOWA MARINE
Another heartbreaking scene, this time in Ft. Dodge, where friends and family members gathered yesterday to remember Sgt. Jon Bonnell, who went by J.J. He was 22 years old. Loved his friends, family, baseball, and his country. This brings the total number of Iowa deaths in the war on terror to 45. When we get word on funeral arrangements we will pass them along.
FAIR TIPS?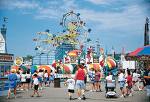 The weather is looking iffy for the state fair parade tonight. It starts at 6:15 at the Capitol, rain or shine. Megan says bring a poncho or umbrella – afternoon storms could be strong, and might still be in the picture at that time.
Here is a
quick link to the state fair website
where you can find info on tickets, hours, entertainment schedules, shuttles, and EVERYTHING else!
I'm also asking all you blog-readers and blog-lurkers to dish out your best advice on really enjoying the fair.
We're taking the kids to the fair later this week and I could really use some pointers!
How do you plan your day, what do you bring along, how do you keep from spending thousands of dollars on rides and food when you bring your kids along, and what do you do to survive the heat?
Our guest this morning, Lori Chappell with the fair's marketing department, says the mornings and late afternoons are the best times for the midway and concourse – not quite as busy.
Did you know you can go in the morning, get a hand stamp, and then leave and get back in later?? Might be helpful if you have kids who need to nap, or if you want to save money on food by taking in a meal outside the fairgrounds.
Lori also suggests visiting some of the indoor exhibits in A/C during the heat of the afternoon.
I'm being realistic about my kids' energy levels: Since they're still so young, I think we'll allot just a couple hours to roam the fair before going to see the Nadas play one of their free evening concerts. Any more than that and I'll have two worn-out, cranky kids and an empty wallet!
I'm looking forward to all your suggestions.
GEN X MOMS –
CELL PHONE OOPS
For the first time ever, I called someone while I was on the air today. Not on purpose. I had borrowed a cell phone from one of our floor crew members, Joe, so I could goof around during a story about texting.
Somehow, it started dialing.
The recipient of the pre-dawn call (at about 5:10am) texted back a very confused message. (If you happen to read this blog – I'm very sorry to have woken you up!)
I won't go into detail but I think I opened a can of worms for poor Joe! Next time, I'll use my own phone.
LOVE SHACK BABY

You should have heard Winters belting out Love Shack this morning. Right before the newscast started, he got on a tear. I called for more cowbell. It was that kind of morning.
I also refused Dan's request to water down his coffee.
I handed him the strong, muddy brew, and told him to take it like a man.
Jon Cahill piped in, "You can't tell him something like that while he's powdering his nose."
Excellent point.
Too bad our favorite target is off the next few days – it helps to have a partner on the news desk to help wake me up! Pat will be back next week – hopefully rested up and ready to go!
Hope you have a great day-
Trisha