This is an archived article and the information in the article may be outdated. Please look at the time stamp on the story to see when it was last updated.
I'm going to fill the top of this post with lots of warnings.
Lots….
And lots…
And lots of warnings.
If you like gross, weird, mysterious medical stuff you will love the following photos.
If you have a weak stomach and the tiniest bit of blood bothers you – don't continue reading (or looking).
I have no idea what I did to cause this.    I don't remember doing something and thinking, "Ouch!"  – like getting a paper cut or a sliver or picking up glass.  Nothing.
What I do know is that about ten days ago my right thumb was swollen and red and extremely painful.  I went to a walk in clinic and received a prescription for antibiotics, but by the weekend, I was in the ER.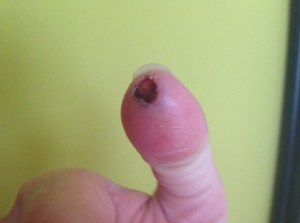 That's where they cut off the tip of my thumb.  No anesthesia.  Not fun. Lots of swearing.
A few days later I was sent for x-rays.  They showed three "foreign objects" in my thumb.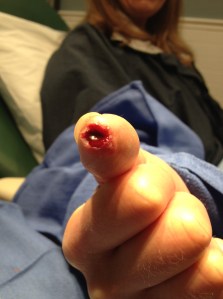 That led to a Friday appointment with a plastic surgeon who did this!  Thankfully, he was able to get me in between a boob job and a face lift and he used a ton of anesthesia!  In fact, I came to work on Friday.  It was the best I'd felt in days because my whole freaking hand was numb!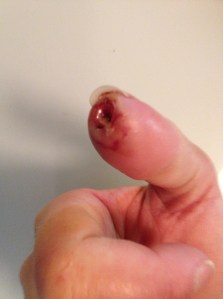 By the weekend, the pain started setting in and my thumb looked like this.  Yup … that's a big ol' hole.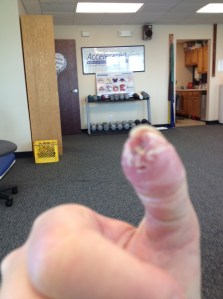 And today I had hydrotherapy with a hand therapist.  It was pretty wild because I've lost a ton of movement in my thumb and hand.  Plus, Erika (the therapist) peeled off a bunch of dead skin.  It was SO GROSS!  This picture is blurry because I was shaking and sweating afterward.
So anyway – that's what's going on with me.
What's new with you?