This is an archived article and the information in the article may be outdated. Please look at the time stamp on the story to see when it was last updated.
Hi gang!
Have you sent your dad his Father's Day card/gift yet?  Mine hit the mail today and coincidentally I stumbled upon this wonderful Arsenio Hall column in Newsweek.
I am so grateful for the dad I have.  He wasn't a stay at home dad, but he was always present.  My earliest memories are of waiting for him to get home from work.  Our ritual was that I would hide and he would have to find me and then we would "chalk" together.  The doors on my toy box were chalk boards and we spent the time before dinner drawing on them.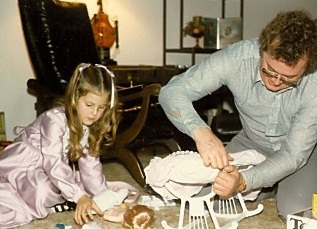 Here's my dad assembling that I'm sure was a Christmas gift.  This is the sort of thing he's really good at doing.  He not only put together toys.  Later in my life it was things like "some assembly required" furniture, or a grill.  He helped me move more times than I care to count. 
My dad was also really good at sports.  We spent a lot of time hitting softballs and shooting baskets.  To this day, every time I hear REO Speedwagon's "Can't Fight This Feeling" I think of shooting baskets in the driveway with Dad, stopping every so often to fiddle with the antenna on the radio in an effort to tune in the rock station being broadcast from one hundred miles away. 
One thing my dad was NOT good at was doing my hair.  But for one school year, he did it.  Or at least he tried.  My mom always had things curled, pinned, braided, and decked out with ribbons or bows but when she did her student teaching she had to leave the house extremely early to drive to a town about an hour away.  That left my dad in charge of getting me ready.  The man can make a mean breakfast, but he can't braid hair to save his life.  I looked like a disheveled flower child a lot of days, but who cares – I was clean and well fed!
My dad hauled gaggles of giggling girls around in the back of his pickup truck (illegal today) after softball games.  We'd pull into the A & W and eat ice cream until we were ready to pass out.  It was awesome.
My dad spent countless hours on the benches in shopping malls waiting on me and my mom.  He didn't complain (too much) and always watched our "fashion show" when we got home with our loot.
My dad is funny.  He cracks great jokes and his laugh is contagious.
My dad is smart.  He hates board games but if people are playing Trivial Pursuit he calls out all of the answers.
My dad is a great cook.
My dad has always supported me – no matter what.  I've made my fair share of mistakes.  Dad let me suffer the consequences, but also made it clear he was there to help me deal with them.  I've always known that he loves me.
Thanks, Dad.  I love you.  Happy Father's Day.
What do you love about your dad?  If he's still here – make sure you tell him.  Feel free to share your special memories here.
EEK
Erin.Kiernan@who13.com