This is an archived article and the information in the article may be outdated. Please look at the time stamp on the story to see when it was last updated.
Merry Christmas, everyone!
It's hard to believe the big day is less than a week away.  I hope you've been enjoying the season and that it's shaping up to be everything you hoped it would be this year.
I know I've quoted my Grandma Susan numerous times here, and I may have used this one before (forgive me) but it's been on my mind since my last post.  "Expectation lessens gratitude."  On the surface that seems rather harsh – but it's true.  It's why I've really enjoyed having no expectations for this season.  I've just been enjoying it.
That brings me to a dilemma.  In my last post I declared that I wouldn't be giving or accepting any gifts.  Then Monday I received an email…
It's from the postal service, informing me that my mother has sent a package.  You know what that means.
And then today, one of my YMCA participants gave me a set of these…
… cleverly decorated wine glasses!  If you want to buy some, here's Lindsay's card: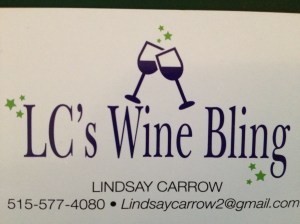 I expressed my dismay to my class.  "What should I do?!?!" I asked in between yelling at them to crank out five more reps, "I said I wasn't accepting any gifts this year!"
A very kind, very wise woman told me to accept the gifts and appreciate the genuine spirit in which they're given.
Your thoughts?….