This is an archived article and the information in the article may be outdated. Please look at the time stamp on the story to see when it was last updated.
Many of you probably read that title and thought, "No kidding!"
In all seriousness, I need your advice.
I've never purchased or cut open one of these before …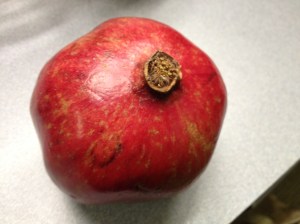 Do you have any tips?  I've read several online articles and watched a few You Tube videos but I still feel like I'm going to mess this up, end up with red juice all over my clothes and maybe cut off a finger.
I'm also on the fence about Twitter.
Dan finally joined facebook and seems to think that means I should finally join Twitter. 
How to cut open a pomegranate and how to tweet.  Those are the pressing questions "Off Camera" today.