This is an archived article and the information in the article may be outdated. Please look at the time stamp on the story to see when it was last updated.
Friday was gorgeous so I understand if you weren't watching the news.
BALLOONS
If you were at the Arts Festival instead and you stopped by the Channel 13 booth – thanks! We had the chance to visit with a lot of nice people and meet a lot of adorable (and polite) kids who wanted to get their hands on those balloons.
However, if you were at the Arts Festival you may have missed the cutest story from the event.
That also means you missed meeting our newest reporter…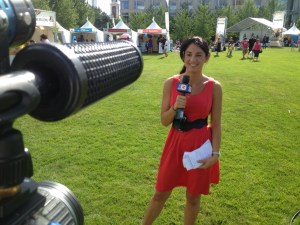 Please make Courtney feel welcome and send her your story ideas!
BRUTAL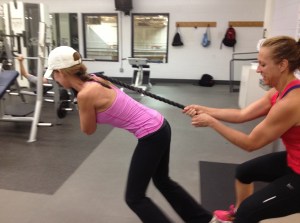 This is what a story idea has gotten Sonya and me into… we spent Saturday morning doing this crazy workout Angie Gallagher has designed for us. We have eight weeks to prepare for the fire department physical ability test. I'm just hoping to survive the training. I haven't been this sore and tired for a long time. It's a good change though. We'll let you know when you can see the first story in this series.
BIRTHDAY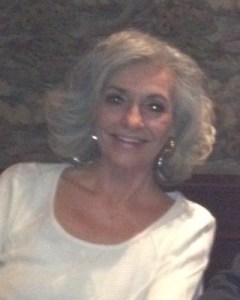 Saturday also happened to be my mother-in-law's 70th birthday.  We had a great dinner at Noah's Ark (where else?!?!?) that night, enjoying family and counting our blessings.
BOARDS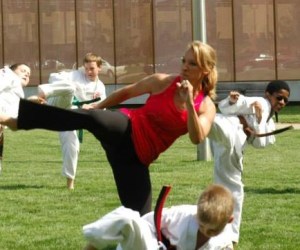 Tomorrow on the Channel 13 News at 5 tune in to see us try Taekwondo! I love Sonya's expression in this photo. Focused!  Fierce! Fabulous!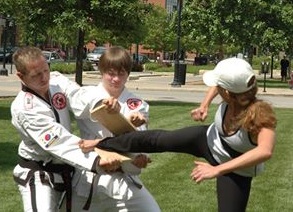 This is me breaking my first board. It took me several tries and I was kind of taken aback when my foot finally went sailing through the board with a "crack!"  It was a very empowering experience.