This is an archived article and the information in the article may be outdated. Please look at the time stamp on the story to see when it was last updated.
(Zach)
From local to pros, that was a pretty darn fun sports week.
Save a brief bit of time covering it in 2005 as an intern, this was my first real experience at Glen Oaks and the Principal Charity Classic.  It really is a first class event and a highlight on the sports calendar.  I thought coming into the week that the idea of Des Moines possibly getting a PGA event someday was a pipe dream.  Another record crowd later, I'm not so sure.  If turnouts keep getting bigger, it will be hard for the PGA Tour folks to ignore.
I had Brooks abducted, dressed as him, and finished his final two holes.  Notice a difference in his play?
I was so confident that Mark Brooks had the tournament in the bag that I basically stopped paying attention after the 13th hole.  Mark Calcavecchia was in the hunt for a while but then at the turn his putter left him and he fell back.  It was hard to see Brooks not winning, but Bob Gilder kept making birdies.  And sure enough, on 17 Brooks splashed a tee shot.  It was on the big screen on 18 and the crowd gasped.  You knew we were in for a finish.
At 60 this guy is better than most of us at any age
Gilder's 30 footer to win was incredible.  It seemed downhill with a slight break.  After all the awards and presentations, Gilder tried the same putt in a Golf Channel interview.  Wasn't even close.  Also touching to see how emotional he and his wife got over the win.
Obviously seemed to rattle Brooks.  His birdie attempt (which would have won the tournament) went way wide.  What followed (a short par miss that would have forced a playoff) was like watching a train wreck.  Brooks didn't stick around to talk with most of the media.  Wish he had, but can't say I blame him.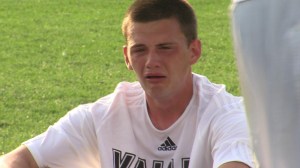 I don't know soccer as well as I do baseball but apparently there IS crying in soccer
I think my favorite memory of the week will be the Dowling boys soccer team.  On Friday night against Johnston they played through double overtime and then a shootout.  In the seventh round of penalty kicks they were down to one of their reserves, Collan Murray.  He admittedly didn't play much, yet he booted the game winner.  I'm not a soccer fan because, frankly, it's pretty boring most of the time, but that was one exception.
Then the eyebrow raiser-Murray tells me he was glad to contribute "to the state title we are going to win tomorrow".  They were going to play Valley, the clear cut number one for most of the year.  The kid called his shot, and Dowling delivered a 4-1 blowout win.  It was my first taste of the Dowling-Valley rivalry, and in any sport, it didn't disappoint.  There were Valley kids crying their eyes out after that loss.
The Cubs are beyond weak.  Yes, Chicago will throw Albert Pujols a boatload of jack to come on board.  As bad as they are it may not be enough.  They've got to get rid of some of the overpriced and overrated veterans (see Soriano, Alfonso) and see what prospects have a shot to be legit.
That said, I give them credit for actually PITCHING to Pujols.  I understand the strategy, but I just hate seeing players wuss out and intentionally walk or pitch completely around a guy.  What happened to wanting to face the best and go after them?  And be real, it's not like the Cubs are going anywhere.  I don't think it's going out on a limb to say these losses will not be looked back on at the end of the year as the difference in the Cubs losing a tight NL Central pennant race.
In about two months (or maybe a little less) we'll be out covering the start of college football fall camps at Iowa, Iowa State, and beyond.  While there's no better time on the sports calendar than football season, it's kind of weird that summer seems to be going so fast.  Didn't it just start?